Soldiers Speak
Received on 3/15/2019
"Thank you for everything you are doing to increase the Morale of the Troops deployed over here.  Your generous donation boxes are very well received and a huge hit/highlight if/when mail call comes."
Diego Garcia, US Navy
Received on 10/15/2018
"I just wanted to thank your organization for supporting us so far away from home and from our families. The care boxes we received were so thoughtful and really brought a smile to our faces!

Here are a couple of photos of those happy faces all the way from Afghanistan."
September 6, 2018 and thankful for you and the good works you do!❤️
Received August 10th, 2018
Thank you so very much, Sgt Robles of VMGR-352 walked into our shop and handed a box to each of us and told us a little bit about your outreach. We are so incredibly thankful, it made my Marines day and it's very helpful. I hope ya'll have a day as wonderful as your outreach. God bless -Sgt Barker
August 21, 2018
From a recipient's grandmother………
My grandson really likes the we care packages and looks forward to them. His very favorite is the Girl Scout cookies, he says it's really a touch of home. And the letters and the cards help keep him going so far away from home! Thank you for all the great work you do this grandma's heart will always be grateful
Received August 9, 2018

"Today my coworkers and I received a care package from you guys and it made our day!
Thank you so much all the way from Italy. This means so much. We appreciate everything you guys do 🙄"
Received, July 24th
"Thank you so much for all the packages my coworkers and I loved them. They definitely got me through being so far away from friends, family, home and everything familiar to me. My favorite part were the handwritten cards inside and of course the snacks. The packages were always a wonderful surprise.
Please continue to do what you guys do for us. I'm very happy that I could receive and share these packages with other sailors. Thank you so much!!!"
S.B. in Guam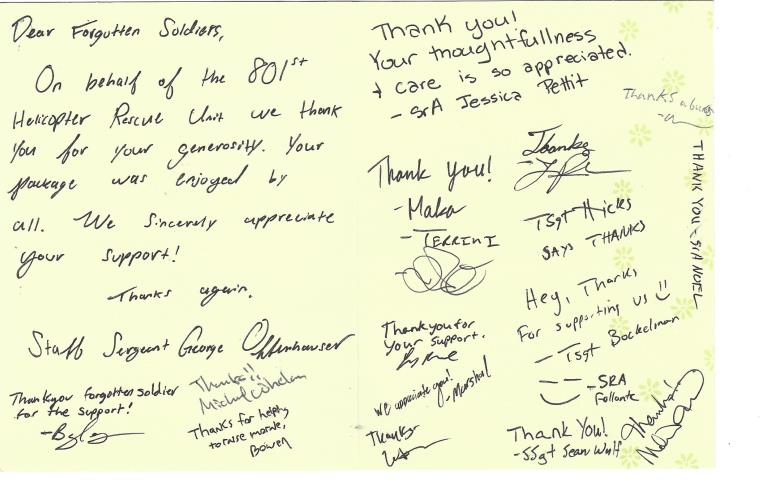 Received on 7/9/2018
"I just received the care package you sent and it came at the perfect time.  I've spent over 2 years at remote locations over the years and this is my last deployment before retiring.  This is about the time I start feeling some home sickness.  I laughed because the first thing I saw was a package of nerds which is my favorite candy of all time!  I was also getting low on travel items like hand sanitizer and toothpaste.  Pistachios and green tea are impossible to find here as well!

Thank you so much for the effort to collect and send it all.  I can't wait to have a midnight snack tonight!   Everyone on my small team of 6 got a package.

God Bless you all!"

Colonel Davis
Received on 5/23/2018
"My name is Stephen, POC in Afghanistan and am working closely with organizations to start getting care packages sent to the camp here to take care of the recent influx of U.S. troops.

We are in a fairly remote location without a U.S. PX or other amenities which makes it really difficult for the younger troops, especially. If you'd be interested, we could use either boxes of one particular item (e.g. full or travel size toiletries to include medicated powder or snacks) that we place in our supply room for the troops, or individual care packages which will be distributed to unit leadership to hand out to their troops."

Stephen, USAF
Received on 4/08/2018
This organization is great! I am deployed in a remote location where we don't get much supplies or reminders of home often.

Your care packages I receive every month are moral boosters to say the least, words of encouragement are uplifting and greatly appreciated. The snacks sent are shared with everyone in my division and they too greatly appreciate your gifts. Thank you for everything!

undisclosed location
Received on 3/17/2018
We have received a lot of care packages and from the bottom of my/our hearts, Thank You and everyone else who pitched in from donations, to packing, to sending everything off.  We are overwhelmed with goodies and really appreciate everything.  Once again, Thank You so much!US Navy
Received February 16, 2018
I wanted to say thank you for all of the wonderful packages you've sent! I have shared them with everyone in our unit and they all pass on their gratitude as well. It's so nice to have snacks to take flying with us on the longer missions. We really appreciate the thought and effort 🙂

Clear Skies,

Garrett, USN
Received January 6, 2018
Received December 27, 2017
Lynelle and the Forgotten Soldiers Team,
I wanted to reach out to you and express my most sincere thank you to you and your team. Every Marine and Soldier here are overwhelmed with appreciation for what you all did for us.
The Marines and Soldiers could not have been happier to receive all the thoughtful items your team sent to us here. I was in total shock when I woke up and they said "Large, we have over 100 packages in your name" (ended up being about 120 boxes, I believe). My Executive Officer look at the stack of boxes we laid out and said, "it's a Christmas Miracle!" To have all those show up here on Christmas day was truly amazing, it couldn't have been better. A giant piece of home showed up when most are reflecting on how they want to be with their families, but understand why they are not.
The team here wanted to make sure that I expressed each individuals gratitude for all the kind things your team sent. The amount of snacks and "goodies" your team sent is overflowing in our workspaces!
It is easy for the Marines to get tunnel vision while they are out here working. These Marines work tirelessly without question to accomplish our mission here. They do an outstanding job, each day, I am in humbled by their attitude and passion for their work. What you did for the Marines, I am sure to you it felt like an easy gesture, however, it brought a valuable lesson to the Marines. One of the Marines here as he was getting a box and some girl scout cookies said, "I didn't think American's cared anymore about the Military." I told him that, that couldn't be further from the truth. There are great Americans back home like you and your team who go above and beyond the call of duty to brighten our day while we are away. To send pieces of home when we are far from it, and to be there for when we get back.
Again, I cannot thank you enough for what you did for the team out here. The team cannot thank you enough!
Semper Fidelis,
1stLt USMC Large
Received August 1, 2017
"Thank you guys for an awesome mail call! We really enjoy the love from Forgotten Soldiers Outreach. "Big Bad John" is on deployment in the Pacific right now, and it has been over a month since our last mail call. These cards, notes and gifts are always well received by our crew members. Thanks again!" From aboard the USS John McCain Received July 24, 2017 "Dear Forgotten Soldiers,
Those of us here at the Combined Joint Special Operations Air Component-Afghanistan are very grateful for the incredibly generous donations that you have sent to us. The team here loves to open and receive the packages you have sent. Again you are an incredible group of individuals who have steadfastly stood with us here in the Armed Forces for 14 years of conflict. Take care and bless all of you." S.F., MSgt, USAF
CJSOAC-A Superinendant Chapel Operations Received July 12, 2017 "Good afternoon from sunny Diego Garcia.  I want to take a moment to thank
all of you at Forgotten Soldiers Outreach, Inc for what you do.  Many of my
Sailors received boxes from your organization and have shared the goodies
with others on island.  Again, thank you." Very respectfully,
Administrative Officer
IVAO
U.S. Navy Support Facility
Diego Garcia Received June 26, 2017
"Thank you very much for the care packages you have been sending out to me.  All of the snacks, hygiene gear, and kind words have definitely made life a little better easier and enjoyable.   All of the Marines in my charge have enjoyed your packages tremendously.  Thank you again and god bless."
Respectfully,
SSgt J.P.
24th MEU, USS MESA VERDE
Received June 10, 2017 "Thank you for our care packages!!! We took some for our Paratroopers to enjoy and then sending the rest forward to our outstations! These were the best care packages! We loved the beef jerky, Girl Scout Cookies, Mac and Cheese, Ravioli, hygiene products and endless amounts of other goodies! It's always nice to get care packages because there's always those Paratroopers that don't have anyone sending them anything! It's like Christmas when we open them!"
Received March 9, 2017  "Since our arrival in June, your organization has consiste
ntly been our number one supporter! We have tracked all the packages you have sent us and personally know hundreds of people who have been encouraged because of your specific items. While our tour here is almost complete, we will continue to remember your support and kindness long into the future."
 Received March 7, 2017
February 2017 Thank you so much for your care packages. All our Soldiers really appreciate the goodies and letters of support. It's always nice to know that people back home are thinking of us and appreciate our efforts. Below are a some pictures of just a few of the Soldiers who are very thankful.Thank you! Thank you! Thank you!
Received January 17, 2017  Thanks again for your continuous support.  Due to my retirement date, I will
start Terminal leave here in a couple of weeks.  Although my official date
is April, you can stop my care packages. It has been a tremendous honor
serving my country!   Your support during my deployments have brought a smile
to me and my coworkers that I have shared the packages with.   Again, thank  you very much and continue your great work!!!
V/R
Senior Chief Sloan Received December 26, 2016
 Received November 7, 2016
Received October 12, 2016
PICTURES SPEAK A THOUSAND WORDS!  PRICELESS!  Some of our recipients receiving and distributing FSO's "We Care" Packages ! Received August 30, 2016
Received August 1, 2016
July 14, 2016 Good Afternoon Forgotten Soldiers Outreach, I'm a Chaplain out of Iowa stationed in Afghanistan.  I'm with a Combat Sustainment Support Battalion helping units and contractors with the supplies they need all over the country of Afghanistan. As I'm sure you can imagine, it's a big job! Being the Chaplain, I'm typically the one that receives all of the care packages. I then make sure to distribute them all over the country to all the soldiers that need the important items you send. Thank you so much for taking the time out of your busy schedule to bless the soldiers in my unit as well as many others on the bases all throughout this country. It's because of sustained efforts like yours that our morale is high, our future is brighter, and our pride in being Americans is stronger. We are thankful for you and honored to serve. We see you as our fellow heroes.Thank you again so much for all that you've done and continue to do in supporting us while we serve here in Afghanistan. I apologize for the tardiness of this email. Since arriving in country we've been updating and reorganizing our office and Free-ex for the soldiers. This has entailed cleaning out old inventory, receiving new in, forwarding 100's of care packages, and interacting with many agencies wishing to help back home. All while doing daily tasks such as Battlefield Circulation, counseling, attending meetings, providing chapel services, and many extra activities. However, the office and free-ex are finally updated accordingly so moving forward I hope to be able to connect with you the same day one of your packages arrives. Blessings on you and God bless the United States of America.P.S. Your organization has sent us many care packages since we arrived about a month ago. Thank you for all of your help in supporting us! We honestly can't express enough how much it means to overall morale. While I wish I could sit and write a handwritten thank you to everyone in your organization/all of your partners I'm simply not able. Please let all of your volunteers and schools know, if possible, that their donations, time, love, and support touch more lives than they could ever imagine. I would simply like to mention a few here whose names I actually have: Chris, Carole, Taylor, Raquel, Lyn, Unnamed, Frances Bruderer, and Matt all from Quota International in Deerfield Beach, FL. Also, a big thanks to Fheyl and Sheila in Boynton Beach, FL; Mortitz in Delray Beach, FL; and Christine Sarner in West Palm Beach, Fl.  Again, you all have our sincere thanks and gratitude.Blessings on you,Chaplain**NAME undisclosed** April 8, 2016
 ' February 21, 2016 Thank-you
I would like to send my sincere thanks to this great organization.  The care
packages that I received while I have been deployed brought a smile to my face
and joy to my fellow Airmen that I work with.  To all the staff and the
amazing volunteers, I just was to say thank-you and keep doing what it is you
are doing, we greatly appreciate everything that you have done for us while we
are serving this great nation.  Thanks again.
"MASH"
MSgt Michael January 25, 2016 My name is CWO3 J.  Pinchinat, currently stationed with the Joint Special
Operations Task Force in the Arabian Peninsula.  I was fortunate enough to
receive a box from your beloved organization and I want to thank you so much
and your entire team for all the hard work and most importantly thinking of
those who deployed in the Middle East.  I was trying to write a thank you
note but didn't have a return address. Once again, thanks a lot and there's any more left over boxes; feel free to
send a few this way to my UNIT since I was only able to grab one while I was
in Baghdad.CWO3 J.  Pinchinat December 8, 2015 We wanted to send our thanks for the package you sent. It's always a tough
time of year for our Soldiers, being away from their families and friends.
You package brought smiles and happiness to their faces. Thank you for doing
what you do. Happy Holidays!SSG Lawrence J. Kosovo
December 7, 2015 This letter is to show thanks and appreciation to the FSO family that always looks out for soldiers who are away from their families and always provide a little piece of home with the special care packages that are selflessly prepared by true patrons and supporters of what we do for our country. We cannot express enough gratitude for what FSO has done for our soldiers. FSO let's us know that they are here with us not only by the goodies and hygiene products, but by the awesome letters and cards from the community from people and kids we don't even know, just to take the time out of their day to express how they feel about us and what we are doing is a BOND in itself and we are forever grateful. We will keep fighting the good fight not only for our families and freedom, but for supporters like the FSO and their families and friends as well,  we say to you all thank you for what you do to keep our MORAL strong and our spirits lifted in tough times away from our families, God Bless America and it's beautiful people and we will be home soon!!!  Happy HolidaysWith love,
Bagram Afghanistan 2015-2016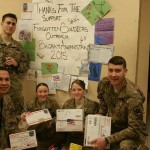 Received December 6, 2015 We wanted to send our thanks for the package you sent. It's always a tough
time of year for our Soldiers, being away from their families and friends.
You package brought smiles and happiness to their faces. Thank you for doing
what you do. Happy Holidays!SSG Lawrence Josefyk Undisclosed Location Received November 30, 2015 I got your email address from a newsletter in the package we just received!
The individual that signed up for the package has already shipped back home,
but the guys here (at an undisclosed location in Afghanistan) and I were
very excited to receive the package from your organization.  These things
will come in handy as we are away from our families and loved ones for the
holidays this year.  We thank you so much for sending this little slice of
America to us.  I have included some pictures of me and the guys looking
through the "spoils" of our package!  You all and what you do is amazing and
greatly appreciated!V/r,TIMOTHY D. WOMBLE, TSgt, USAF Afghanistan
Received September 30, 2015 It's SPC Funcheon, I'm on SSG Perez's team over here in Afghanistan. I just wanted to say hi, and thank you from the bottom of my heart for all of the packages you have been sending. It has been such a treat to receive such great things while being out here, so thank you for taking your time to care for us all. Your team are truly incredible, and we all appreciate it so much. Have a wonderful day, and thank you again. Best wishes,
Spc  Funcheon Afghanistan Received September 30, 2015
Thank you so much for all the goodies in the care packages it means the world to all of us on SSG Perez's team to have someone so thoughtful and someone who cares as much as your organization for troops overseas thanks again
SPC Entwistle
Afghanistan
Received September 2, 2015
To whom it may concern,
Yesterday, September second, I received a package from you guys. I was
extremely impressed with how complete it is. I am a married soldier with my
third time being away from home. I'm kind of used to this, sad to say, but
it's the nature of the beast called the military. I have to say though,
these packages make soldiers extremely happy when they get them. It brought
a smile to my face, but when my soldiers get then they light up. I guess I
am writing this email to thank you all for what you guys do. I know that
these packages are sent to us who are deployed and away from our families.
But I have to say that without things like this our morale would be a bit
lower. It is because of packages that you all put so much thought into that
we can get by and cheer up a bit.
Thank you so much for what you guys do. I am one of the soldiers who get
these packages and I have to tell you all have made me feel extremely happy.
Thank you.
Received August 10, 2015
Received August 4, 2015
Received August 4, 2015
Received July 18, 2015
THANK YOU SO MUCH FOR THE CARE PACKAGES WE RECEIVED TODAY I WANTED TO TAKE TIME TO SAY THANK YOU FROM MYSELF AND MY FELLOW SOLDIERS YOU ALL MAKE OUR DAY BRIGHTER WHILE WE ARE AWAY FROM OUR FAMILIES.
Very Respectfully,
SGT Glisson, John
831ST TRANS BN
Received July 2, 2015 (some editing was required ) 
I just wanted to send a quick note and say Thank you!My name is MSgt Stovall and I am the First Sergeant for the 455th
ELRS in Afghanistan and My job is to ensure the health
and moral of our unit in maintained to ensure a combat ready force.  This
could have not been done without your support, to include the letters and
goodie boxes from the outreach program that you all sent over for our
warriors.On behalf of the commander and myself "Thank you"  your contribution and
donation of the boxes , it  brought a smile to our Airmen's face and made
time here a little easier to with stand and brought the morale a step
higher.Again thank you for the kinds words and the goodie boxes from your outreach
program.V/r
MSgt Stovall  USAF Received June 25, 2015 
First, I would like to extend my gratitude for all of your support from a retired Command Sergeant Major who served our Nation for over 36 years. I am now the Afghanistan Aviation Program Manager for the Fluor Government Group. Part of my job includes oversight of all the helicopter passenger terminals in Afghanistan. Soldiers often spend many hours in our facilities waiting for flights.

Thank you very much for the care packages you send here to Afghanistan for our Soldiers. We put the contents out for our Soldiers waiting for flights to enjoy. They love the snacks and often comment about the generosity of people back home. Please know we appreciate everything you and all your supporters do to take care of them and make their tough days here a little better. We know it takes a tremendous amount of time and resources for these boxes to be filled and shipped here to Afghanistan.

It is very inspirational and makes our dedication to these warriors all more worthwhile. Rest assured that all the packages we received are put directly in the hands of our deserving Soldiers.

Once again, thank you and all those involved!
Received May 6, 2015 I hope all is well for all of you.I've recently moved to another location for duty. There is a need for 50 boxes at this location. 40 males 10 females. We've got a small team here but they haven't got any boxes in the past 6 months prior to my arrival.   If your team can accommodate that, it would be very morale lifting!!Basic items:Food: Snacks, nuts, dry fruits, Asian Instance noodles, chocolate candies, protein bars, gums, energy drinks, energy shots, coffee, tea …
Toiletries: shampoo, soap, shaving cream, razor, deodorants, baby wipes, Q-tips, …
Others: hats, socks, dips, cigars, coffee mugs, football, soccer ball, Holiday Cards, … Thank you so very much!  Chaplain Undisclosed Received January 26, 2015
My name is CPT Rob Davis, Company Commander for"undisclosed).  The company has been deployed to Afghanistan, since OCT 14 and will remain there for many more months in 2015.  I am writing today on behalf of my soldiers, requesting assistance in getting care packages sent to them with the intent of boosting morale.  This deployment has proved to be challenging in a different way from previous deployments in fighting complacency and low morale given the mission set and operational caveats defined with Operation Resolute Support.  As the commander, I am ferociously attacking this problem and believe this would be a great way to mitigate some of the low morale.  
Received October 28, 2014
Received August 25, 2014
Hello All,



I want to thank you so much for the Care Package, it was greatly appreciated.  God bless you.
Sincerely,


SSG Chinaris
Received August 23, 2014
Thank you so much for all of the packages all of you took the time out to send me, I shared them with my Unit and we all loved the treats! So from everyone on night shift at 763rd EAMU at Qatar Air Base I want to say thank you for all that you have done for us! You all have definitely made this trip more enjoyable for us.
V/r,
SrA Inglis
Received August 20, 2014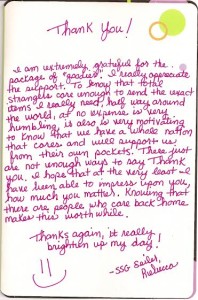 Received July 17, 2014
TodaySince opening their doors on May 4th, 2013 , Forgotten Soldiers Outreach Furniture and Thrift Store has personally provided and delivered furniture to over 100 veteran's and their families through the VA referral voucher program. This is something that was not going to happen for us in North Central Florida, and after looking everywhere we found the help that we desperately needed and hope to persevere after arriving at Buttonwood Plaza, 3080 Jog Road in Greenacres, Fl.
My name is Aaron Ashburn and I was enlisted in mechanized infantry for the Army's Third infantry division. My job during my tour in Baghdad was emergency response. Due to the injuries sustained during the initial invasion, I now receive service connected benefits.
Last year my wife was laid off and a couple of months later we became homeless. Living in a hotel became very expensive, and we could not get ahead. My wife and I , and two of our three children, ages 3, 15, and 20, moved to Palm Beach County as we qualified for housing assistance through the Hud-Vash program. Things were looking a lot better after becoming recipients of affordable housing and assistance. We moved out of the hotel and into our new home where we were sleeping on the floor. We were taking baths, but had no towels. We could prepare meals, but had nothing to cook with or to eat on.
After having a visit by the V.A. Caseworker, they referred our family to a non-profit organization called "Forgot Soldiers Outreach." They suggested that I give them a call as they might be able to help us furnish our home since we had no means to retrieve our furniture or belongings from our previous address in central Florida. I was a little disgruntled with all the agencies that had been telling us no, and that they could not help us. I didn't want to make the call., but my wife did. In retrospect, I thought what a mistake that would have been!
My wife spoke to the assistant store manager, Kay Emrick, who immediately told us to come in. She explained that the mission of Forgotten Soldiers Outreach was to provide for United States service members and veterans. We made the drive to the store located in Greenacres and met the store manager, also a veteran, named Mike Zelnar. He insisted that we find everything we needed to furnish our home . We were given hygiene products, a box of food, shower curtains , towels, light bulbs, a dining room table., beds, pots and pans, silverware, plates, glasses, baking pans, coffee pot, toaster oven, and other home goods and furniture.
I couldn't believe it! He even delivered and unloaded everything for us. God is GOOD! And I know God is moving in a mighty way through FSO. Our family was in need and this is what separates a regular furniture and thrift store from a ministry. I was so impressed with the assistance and courtesy I received at FSO that I decided to volunteer to help other vets. FSO is a gift that keeps giving. Yes, our family has been provided material things, but we have also been given hope. This Outreach has saved our family, and that hope that was instilled from day one when walking through the doors at FSO Furiniture and Thrift Store is the purpose for our desire to continue to help other Veterans.
In God we trust!
Aaron Ashburn
Received July 9, 2014 All,
I just want to thank for the gracious packages that you sent to our troops.   Its gestures from people like yourself that reminds us all why we do what we do. The separation from family and loved ones sometimes takes its toll on a Soldier, so things like receiving a letter or even better a package is a morale booster like no other. We also want to thank each and every one of your donors whether they be a business or an individual their kindness is greatly appreciated. And finally thank you hardly even comes close to the great job that your volunteers do, the care and precise packing that went into our boxes and how they got so much in them is just awesome.Again Thank You,
1SG Tim Weaver Received June 28, 2014
I got the package from FSO in 2 days ago. The package was AWESOME! Ton's of healthy goodies and the letters that I recieved from the children were very heart warming. A couple of them have emails attached and they asked a couple questions, so on my down time at work I will be writing them back with answers. 
Thanks again! Daniel USAF Received 4/11/14 To whom it may concern,First and foremost, I would like give you all my deepest appreciation for
all the support that you have given me when I was deployed and away from
home for almost a year. It certainly have been the most pleasant deployment
that I have had, and that is because of you all. I have enjoyed all the good
treats each time I received them which I also shared with my fellow Sailors
here on the ship. Most of all I enjoyed reading all the letters that came
with the care packages because that is what brought me closer to home. Word
cannot express how thankful I am that there are organizations like yours
that strives to support our nation's service man and women around the world.
Now that I am home, I would like to respectfully request to discontinue
receiving the care packages, so others that need them more can receive them.
Again thank you so much for everything!Very respectfully,
ABE1(AW/SW) Patrick Cusi
USS NIMITZ (CVN 68) Received 3/25/14 Hello -I just wanted to say thank you for the care packages over the last year. I
was stationed in Diego Garcia, a very remote island in the Indian Ocean, as
the flight surgeon (doctor). I appreciated all of the goodies and toiletry
items. My corpsmen all thought it was Christmas when I would get a box in
the mail – they knew there would be Girl Scout Cookies and Slim Jims! They
even loved the comics!Thank you all for what you do! When you are away from family and isolated,
it is the little things that count. Mail and packages are a great morale
booster!Very respectfully!Jessica L. Naff
LT   MC (FS)  USN
MAG -24 Flight Surgeon
Marine Corps Base Received 2/4/14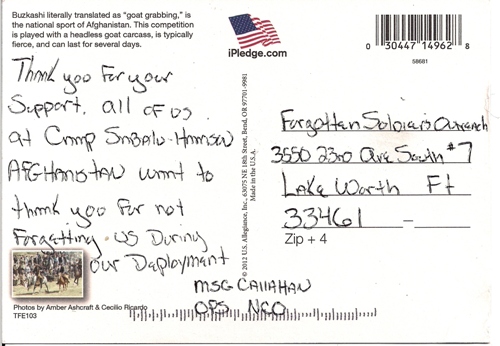 Received 12/26/13
I want to thank you for all that you and your supporters have done for me and my coworkers. My time here is coming to an end there will be a new unit that is moving here from another location anything that is still headed my way will be opened and dispersed amongst them. We had a good Christmas thanks to you and your supporters.Thank you again
James Received 10/25/13
Received  8/5/13
Received July 27th, 2013
Thank you for your support and the package, it is greatly appreciated!
CPL Jessica Hurley USMC
Received July 29, 2013
My son just advised that your packages have arrived and he has been passing them out to his troops all day.  A VERY welcome surprise.  Thank you so very much!
Simone Velasquez Hoover
Executive Director
Operation Homefront – Florida
Dear Forgotten Soldiers Outreach, One of our Soldier received several of your generous BOXES.  I can't thank you enough for your thoughts and donations.
MSG Callahan, John A
Operations NCO
Task Force Dark Knight, 715th MP CO Received 4/12/13
Received 10/25/12
Thank you so much for the time and expense you put in to support the
Soldiers here, they are very thankful to everyone who contributed and
enjoyed reading the messages of support. We will be leaving theater toward the end of December and will be replaced by another Infantry from Fort Campbell-these guys will have much less in terms of resources(not that we had it that good!) here than we had because of the Army reducing its footprint in Afghanistan. They may only be here nine months though so it kinda balances out. Well thank you again and God Bless You and Yours V/R
SGT Gulley, William
Received 10/1/12
Lynelle and the rest of the Forgotten Soldier Outreach Staff and Volunteers, I just wanted to thank you so much for the care package that I received today. I was touched that you had taken time out of your busy day to brighten up my day. Everything that was in there can and will be used. It is good to know that the Support for YOUR Troops has never wavered and continues to grow even stronger. Once again THANK YOU for what you have done and continue to do for the United States Armed Forces! SFC Christopher L Galbusieri
Kandahar, Afghanistan 
Received 9/21/12
Forgotten Soldiers, Thank you for all of the care packages that I have received.   It was truly memorable and touching that Americans like your-selves truly care about our men and women of the Armed Services. I wanted to inform you that I have recently returned from overseas earlier this month. Thank you for everything you and your organization have done for me and my brothers and sisters. R/ ABE1 Jonathan DiCola Received August 21, 2012 Hello, My name is SPC Williams Caress.  I'm a 92M Mortary Affairs.  My job is to bring all the fallen soldiers home as fast as possible to bring their families closure.   I just wanted to take the time in my day to say thank you for the care package.  It really made me feel special like someone cared and ya'll didn't forget about us over here fighting the fight. It was a really nice care package and that popcorn, the Zebra kind was soooo good
Well please make sure to tell everyone involved with making these care packages, that we really appreciate them. Thank you again. SPC WILLIAMS CARESS Received July 19, 2012 I am writing to you today in response to all of your care packages that I have received from you.  For that I am grateful. However at this time, I would like to ask that you cease on sending anymore since I am leaving in a few weeks.  I would love to give you some names, however, I don't have any at this time. I can't begin to tell you how much your care packages helped me to get through these 52 long weeks without being with my family!  Thank you! God Bless all of you! Sincerely, Spc Eric McDonald
Received June 25, 2012
Lynelle and Jennifer, and the Forgotten Soldiers Outreach Family,
I have received several care packages from your organization.  On behalf
of my Hurricane Warriors, I want to personally thank you and your
organization for supporting one of our greatest natural treasures, the
American Servicemen/women.  It's great having a local organization from
Palm Beach County Florida supporting our unit. I welcome your
organization to join us at the re-deployment ceremony in Miami.
The packages' containing volunteer letters brings a smile to our
Soldiers faces. Many of my Soldiers receive little to no mail. I have
the opportunity to visit the Soldiers throughout Afghanistan and deliver
the care boxes to them.  Several outposts have no care items or post
exchanges.  Your organizations time and efforts are greatly appreciated
by the Soldiers. Only less than one percent of our population volunteers
to serve and We proudly serve the people of the greatest nation.
Respectfully,
CSM DUROS
TF Hurricane CSM
Received June 12, 2012
Hi, I just received my first Forgotten Soldier package! I would like to say  thank you to all the volunteers that helped put these boxes together! I received a letter from Emily T. who asked to write her back. I do not have
an address to send a letter back. She signed the letter Emily T 5th grade and the address on the box is from Lake Worth, FL. If there is a way to track down where these letters came from I would love to write her. Thank you again! V/R,
AC1 Rogers, Crystal M
Air Traffic Control
U.S. Navy Support Facility Diego Garcia
Received May 29, 2012
You don't know us, but we are the parents of Matt Durbin, a soldier you sent
a care package to.  Matt was stationed in Spain for 2 years, and he is
currently relocating to New Mexico.  From now till mid-July he will be
attending classes for a new job.  He stayed at our house in Owaneco,
Illinois, for a month before leaving only yesterday for Texas for his 6
weeks of school (before leaving Spain, he instructed the post office to
forward his mail to our home).  He called us today to let us know he had
arrived in Texas safely, and we told him about the package that had arrived.
Since it would be pretty costly to forward to him, he told us to open the
box and use the contents.  I hope you don't mind that we have done this.
It's hard to put into words the emotions that we felt as we unpacked the
items – we could tell were so lovingly placed in the box.  The cards made by
children in your area, the care and love that went into packaging this for
one of our country's soldiers.  Thank you so much to everyone in your group,
community, and all involved in the volunteer work you are doing for our
soldiers.  We thank God for your kindness
Sincerely,
Scott & Kathy Durbiin
Received May 15, 2012
Thank you very much for Your support, for it was very helpful and
uplifting to the soldiers and myself. I am more than just a little
thankful. Your organization's contributions have truly come through for
us all. We are due to redeploy in July so, once again, thank you very
much.
v/r
Juderson Nelson
SSG, USA
Received April 18, 2012
Hello from Kuwait.  I wanted to thank you for the 19 boxes of care packages.  Needless to say, I was shocked when my guys started to carry them in.  It seemed as if they were never going to stop.  All the Sailors were extremely grateful for your organizations thoughtfulness.  I do have some good news.  We are coming to the end of our mission.  That is correct the 2515th Navy Air Ambulance Detachment will no longer exist come the first week of June.  With that being said, we need to ask that no more packages be sent this way for our unit.
Very Respectfully,
AWSC Steven R. Turo
Senior Enlisted Leader
Received May 2, 2012
Received April 3, 2012
First and foremost, let me say thank you for the care packages your organization has been sending to me this past year.  Since they are unscheduled, they were always a welcomed break from the norm and a great source of distraction from our realities.  I say "our" opposed to "mine" since everyone in my section was the recipient of the goods delivered within each box.  The common phrase "We Scored!!!" could be heard throughout the building to let everyone know I was about to stock our community closet with the latest goodies.
Your packages were another reason this deployment was bearable.  Thank you for all of your time and efforts associated with the packing and delivering of these packages.  Your services are truly necessary and appreciated.  As always, we cannot stop time and it is time for our deployment to come to an end.  Please remove me from your registry so another Soldier in need can enjoy your efforts.
Thanks once again.
Respectfully,
LT Robert G. Adair
____________________________________________________________________________________________________________________
Received March 30, 2012
To Lynelle and all the patriots at 

forgottensoldiers.org

,The Marines and Sailors of Marine Aviation Logistics Squadron 40 thank you for your support during Operation: Enduring Freedom. No matter how much we consider ourselves grown men, we will always have

room in our hearts and stomachs for girl scout cookies! Many Marines don't receive care packages while deployed but the effort your group put forth showed us that more people care than we ever realized.

Please keep up the good work!Cpl Matthew McCall
Received February 20, 2012
Thank you for all the wonderful care packages you have sent me from the very start you have definitely made this overseas deployment easier on me. I do want to confirm that I will be leaving early April instead of May so if you could be kind enough to send me one in March and if the one in April gets here by the time I leave I will gratefully hand it down to a fellow sailor.
Thank you once again for all your dedication in helping sailors and soldiers alike feel less "forgotten"
Very Respectfully,
AC2(AW/SW) Oterino, Jesusmanuel A.
NSF Diego Garcia
—————————————-
from Major Donald Carden
from SSG Ann Bivens
Received Feb 19th, 2012
Thank you so much for all of your support. I must admit, its the letters from kids that bring us the most joy over here. Gives us real motivation that what we're defending back home is always worth the effort.
Sincerely,
SPC Raborn, Alexander
——————————————————————————————————
Classification: UNCLASSIFIED  Caveats: FOUO   

To Whom It May Concern,  
I want to thank the Members of Jonathan's Landing, Jupiter, FLfor the wonderful care packets. The two I received were from Linda Gilmore and Mike.
Everything that is given to us, does not go unappreciated. You and your organization, have greatly enhanced the moral of myself and of every other Soldier in TF Talon!  
Have a Great Army Day!  
V/R 
SFC Lentera S. Buskirk 
TF Talon S1 NCOIC1/23/12 
————————————————————————————- 
I wanted to share that even on the last day before block leave, as I scurried around trying to take care of last minute paperwork for the units, I heard and saw soldiers with their cards reading them out loud to others. It was such a good feeling to see them share in this manner
Thank you and your organization for thinking of our soldiers. Your acts of kindness do not go unnoticed
My sincerest gratitude,  
Eunice A. Garcia
1/19/12
_____________________________________________________
I am SSG Kimberly Ferguson the Supply Sergeant for E Co. 3-82 Aviation at Bagram Airfield Afghanistan.  We just received 2 boxes from your organization and I wanted to thank you very much for all my soldiers. Your support is greatly appreciated by all here.  There are about 90 of us here from Ft Bragg NC 83 males and 7 female soldiers.  We are an aviation support company we do maintenance on wheeled vehicles like fuel trucks and such to support the aircraft and we also have a platoon that does class 3 and class 5 supply that is fuel and ammo.  I am in charge of all other supplies like clothing and office equipment, housing, food and so on. So again I wanted to thank you for your support.
SSG Kimberly Ferguson
TF TALON E Co. 3-82 AVN
received 1/09/12
——————————————————————————————————————-
Received 9/6/11
I received the large box that Forgotten Soldiers Outreach sent.  It is greatly appreciated.   I have shared it with all the members of our team.  We now have a Romanian Soldier on our Team.  I let him have one of the boxes also.   He was very appreciative. I will be here until the beginning of next June. After that I plan to return to the USA.    I will then be at 61 Months Combat Zone time.   I guess that might be enough for now. Your continued kindness is greatly appreciated. Please thank the others in your group also.Sincerely,Von NunesKabul, AfghanistanReceived 8/30/11——————————————————————————————————–FSO Team and Volunteers,I just received both of the care packages you all sent.  Thank you so much.  My crew also says thank you.  Like I told you before these care packages do wonders to bring up the spirit of the crew here.  I was amazed to come into work this morning and see grown men and women sitting around the care package.  Their smiles on their face like it was Christmas morning.  When I finally opened the package I grabbed the letters from the kids.  It's their favorite part of the package.  Thanks again ya'll and I can't wait to see you all.V/RSSgt Joseph CastellucciReceived 8/26/11 Good morning,I wanted to thank you for the recent care packages sent our way.  It is always an amazement how you guys can always find just the right things to send.  Please thank everyone that assisted in putting everything together.Hope all is well back there with everyone.R/SGySgt T. ConklinHAZMAT ChiefReceived 8/26/11————————————————————————————————AWSCS(NAC/AW) Johnathan HettelWe just got your package a few days ago and have been killing mice wholesale. I don't have any pictures of the box opening.Mail call is a big event here and the your boxes are a big hit. I would have to stop everyone from tearing into it and havethem go outside(120 degrees!) because our spaces are classified secret and no photography is allowed. So it would be kind ofa buzz kill to do that, but all the Pilots, Aircrewmen, SAR Medics and Pararescuemen went out to the aircraft for some photosfor you. Here they are. I also have some personal ones I will send to you soon.  I can't tell you how much your effort isappreciated!  I'll say this, be glad you live in America! Everythings going good here. Very hot though and the rocket attackare no fun. Thanks to everyone that has sent emails and packages. They were much appreciated! Thanks again!Jon V/R AWSCS(NAC/AW) Johnathan Hettel 2515th NAAD Basrah SEL July 6, 2011**FYI, Photos are posted in the FSO photo gallery
https://www.forgottensoldiers.org/community-2/photo-gallery/
———————————————————————————–To all of you at Forgotten Soldiers,I wanted to take the time to send my sincere gratitude and appreciation for the packages you send out to our service members. You bring smiles and raise the morale of thousands of service members out here. These service members are in great need, at times, of reminding why we do what we do. All of your hard work and dedication hieve this every time a package arrives. We still have some time left on our deployment here; however, I look forward to coming home and thanking all of you in person. I hope these pictures build your morale as your packages have raised ours. They bring out the best in my Marines.This journey will complete my ninth deployment in my career. Your organization has supported me in my last four adventures. They have bar none been the best deployments of my career. You assist commanders on the battle field in raising morale, which is no easy feat. I cannot stress enough that it is not just the tangible items you put in the packages for these Marines to enjoy, but the intangibles. Just knowing that what we do out here is appreciated and we are not a snapshot on the news means everything to us. It reminds us why we are here and pushes us to give our all every day. Your packages seem to have impeccable timing. They always come after a tough day or during a trying week.I think we have grown tremendously as a country and learned a lot from Vietnam. Supporting our troops when they are called to arms is vital to sustaining our great nation. Your organization does just that. You remind us why we do what we do and drive us to make you proud.I am in debt to all of you for what you have done for my Marines. You help me accomplish our mission.
Very Respectfully,CWO Sean FloresMT/UT Platoon CommanderCamp Leatherneck, AfghanistanJuly 6, 2011 Greetings,   On behalf of the soldiers of the 2-2 Infantry Battalion, I would like to personally say thank you, for all your support and appreciation.  I cannot tell you enough, how much it means to our soldiers to receive care packages and letters of support from you.  I can attest to the awesome morale boost that it brings, and can without a doubt say that your generosity and love has made things a lot easier for all of us out here, and we cannot say thank you enough for what you've given.Our soldiers find themselves in harm's way most everyday out here at FOB Andar, and it's wonderful for our troops to know that the people back home in the States appreciates what they do.  Your care packages and letters have shown just how much love and support that the American people have for us.  I can speak for all of us when I say that we can  feel the warmth of your appreciation, and the sincerity in your giving.  We can't thank you enough.In regards to what you've sent, our soldiers have really appreciated the foods and toiletries that you've sent.  It's not uncommon for our soldiers to grab a pocket full of snacks and food before they roll out on a mission.  The toiletries have been awesome as well.  Our guys definitely appreciate any opportunity to be clean and healthy.  Thanks so much for what you've sent.Once again, thank you, for all your support and thank you for your awesome generosity.  We could not be the soldiers that we are, if not for the support and love of people and organizations like you.Thanks and God Bless.Spc Benjamin MatykaChaplain's AssistantFOB Andar 
From Department of Defense, United States Forces-Afghanistan, Operation Enduring Freedom, Kabul, AfghanistanDear Mr. and Mrs. Pray,I recently received a large shipment of snacks and sundries from the very supportive volunteers of Forgotten Soldiers Outreach in Lake Worth, Florid.  The package ahad a very positive impact on my morale and that of my fellow service members.  We are very grateful to hear from you.  In recognition of this gift, I have arranged to have an American Flag flown over the Headquarters of the International Security Assistance Force in Kabul, the capital of Afghanistan.  That flag is enclosed, along with a certificate honoring the Forgotten Soldiers Outreach for their effort and support!Please present this flag to these compassionate volunteers on our behalf.  Thank you.John a TucciCaptain, United States ArmyUnited States Forces-AfghanistanMay 3, 2011**Note: The flag was flown on the same day that our forces killed Osama Bin Laden in Pakistan. The timing of the flag flying in Kabul was a significant day for our efforts against terrorism and hopefully will point to an orderly, safe and swift return of our troops from Iraq and Afghanistan.———————————————————————————————————————————AWSCS(NAC/AW) Johnathan HettelAll,Today, my unit, the 2515th Naval Air Ambulance Detachment received a care package from your organization and I wanted to pass on our sincere appreciation to everyone in Tennessee at Elzie Patton Elementary's Help for Heroes Club and to the whole organization. The 2515th is a Navy squadron based out of Guam that has taken on the role of an Army MEDEVAC unit. Wehave been supplying assets to Kuwait and Basra Iraq since 2005 transporting almost 2600 personnel to higher levels of medical care. It was great to read some news about South Florida. I grew up in Hollywood.  Thanks again for all your support!JonV/RAWSCS(NAC/AW) Johnathan Hettel2515th NAAD5/6/11————————————————————————————————————–HM1(FMF) Robert ProtomastroWe just got our first package a couple of days ago and it was great. The Beverly Hillbillies DVD was a nice thought and will give us a nice break from the staticy (is that a word?) Armed Forces Network we get here on our camp. We appreciate your thoughtfullness and support and look forward to the next packages whatever they may contain. Our group will be leaving towards the middle of September.Thanks again.Sincerely,HM1(FMF) Robert ProtomastroSNCOIC Alpha Surgical Det DwyerPreventive Medicine Chief, RC-SWApril 20, 2011————————————————————————————————————————–ACAN Ramirezhello how are you doing? I received my package the other day at diego garcia. I can't really think of anything specific that I need but what came in the first package was great. The letters from the kids lifted my spirit so much. I would like to that you for doing the forgotten soilder and thank all the people that participate. You all will be in my thoughts and pray and will always be grateful.V/RACAN Ramirez  USN4/22/11 
Good morning;I just wanted to take a quick minute to thank everyone for taking the time to send us boxes.  Everything that you sent was awesome and everyone was very appreciative of it.  Hope all is well back in the states.R/SGySgt T. ConklinHAZMAT ChiefApril 14, 2011—————————————————————————————Russo, Paul  Commander  US NWe received your package this week. Thank you so much for the very large box of gifts. As always, they were very much appreciated.The holidays were very trying on all of us, not just because we were away from family & friends, but because we received many casualties of the war. Unfortunately, the majority were children. We did lose some NATO & American soldiers this week also. This is always heart breaking for us. We keep thinking that the cold winter here would diminish the fighting, but each and every day more casualties arrive. I have been here 7 months now and there has not been a single day without casualties. On Christmas Day our base was attacked and one American was killed. The next day another attack and another civilian contractor was critically injured. I look forward to the end on this conflict and the day where this country see's peace for once.I will be returning home January 25th. I am grateful for the opportunity I had to serve here and serve our country as well as the opportunity to encounter many wonderful people such as you and Forgotten Soldiers. Thank you for all your support during our time here. From the bottom of our hearts, Thank You!Please wish every one at Forgotten Soldiers Happy New Year's and Peace in their lives. It has been by living in Afghanistan that I have truly been able to understand the peace we experience is to be coveted and protected.God Bless Always,Paul RussoCDR, USN 
Flynn, David S.  Commander, CTFLynelle, I received a package this week from your organization and want to thank y you for taking the time to think about us and the effort it takes to organize such an endeavor. The items you sent are all favorites of the Soldiers. We are operating in the Arghandab District of Afghanistan and have been in a  very difficult fight against a wily and determined enemy. Our Soldiers are living in austere base camps amongst the local people throughout the river valley — the items you sent are not only welcomed but often they are necessary. Thanks again. Sincerely, Dave DAVID S. FLYNN Commander, CTF 1-320 FA Afghanistan October 9, 2010******************
DeLarosa, David CTR USN Firearms & ToolmarkOn behalf of the Soldiers and members of the Joint Expeditionary Forensic Facility 4 on COB Speicher, we wanted to take time out to thank you for continued support of our Military. We also wanted to thank you for your care packages are that ALWAYS appreciated. The letters and cards that are included are a great moral boost to the members of this command. Thank you again for your continued support.CTR David DeLaRosaFirearms and Toolmark Examiner 
CW2 Joseph P. CapesiusHi Lynelle.  My name is Joe Capesius and I received a care package with your letter inside.  I wanted to say thank you for your support. These little comforts from home are greatly appreciate and help break up our days, which can be long and hot!CW2 Joseph P. CapesiusConstruction Engineering Technician6/29/2010******************Jada GarnderHello, I have been receiving the packages and I just want to say thank you for them. They have really come in handy. We have all benefited from the items we have received. The soldiers from 1218th will be redeploying sometime in June, and will be unable to receive anymore packages after May 20th. Thank you so much for all of your support.
Jada Gardner
4/30/10******************Captain Duane A  DuramtLet me first say how grateful I am for your service to those of us who have gone to the austere places of our nation's call of duty! Your Care Packages have eased a lot of our needs and wants while we were deployed. But moreover, receiving them has helped to keep our spirits high with the feeling that there are good folks out there that cared enough to put some effort into something tangible. What you do for service members, matters. What you have done for this Marine, matters very much. Even now that I have returned home from my year-long deployment, I still remember how much I enjoyed receiving and sharing your Care Packages with other Marines. Thank you and Semper Fidelis!!Very Respectfully,
Duane A. Durant
Captain, U.S. Marines
April 29, 2010******************SSG Chris Pelfrey
Hello to all. Sorry that  I have not written before, been a little busy. Thank you all for the care package that you sent my soldiers. Your support is truly needed and is going use.I wanted to take the time and thank everyone at Forgotten Soldiers Outreach. Thank you very very much. You are helping us so much. The little things from back home makes our deployment here a little easier. Over all we are doing okay. Long hours, little sleep and love every bit of it. I must, i have been doing this for almost 19 years. We have been getting a lot of rain the past few days but not as much as back home in Clarksville, TN. Everything is flooded there.Nothing much has changed. I am still trying to get the MWR room set up for the soldiers.  I have taken on more soldiers that need help and support. I have gotten a little school supplies and the kids had so much fun getting toys and school supplies. It was more of just having something they never have had before was the cool part about it. Seeing the look on their face, in their eye that you're giving me this, with not wanting anything in return. Tomorrow when i go in to work, I will send you a pic of them.What you don"t see there about me is that 2 days I have a birthday. Nope, not telling how old…lolWell I give out / share half with my soldiers and box some up for the guys out in not so nice camps outside the wire. I have also started helping the hospital with sheets, towels, flip flops for when we get hurt soldier or even civilians that need something while they are there. If you get flown in to FOB Salerno to our CSH (combat support hospital) chances are that you only have the shirt on your back. Sometimes not event that. I don't mind the extra work after I get off work to help them out. I just think that some would do the same for me if I was in the CSH.The care packages that i get gets split something like this, 25% my Soldiers, 25% to the soldiers outside the wire, 25% to the Hospital, and the rest goes to the kids, that's my favorite.My wife helps when she can. With her work, volunteering, our 14 year daughter, her Girls Scotts, and guitar lessons, Drama classes, and tons of other things keeps her real busy. She sends a few each month when we have extra money. She knows that I have my platoon signed up and I told her that I can't remember the things that I/we liked back home. (It's real easy to forget the little things when your over here ) so she made me a list, but it is on my work computer email. I will send it later tomorrow. It's just an idea to help, no worries if the items can't be gotten. The soldiers love the simple things like the 35 Cents Cup of Soup or Cup of Noodles form the grocery store. We all hate eating at our mess hall. No other way to put it, it sucks. Rather eat microwave food.lolSorry to keep boring you so with me running on and on. I need to close any way and get ready for bed. Its pushing midnight real soon.Take care and thank you so much for all that you do for soldiers.
God Bless
Chris
SSG Chris Pelfrey
May 5, 2010******************SFC Stephen Eldred
Thank you for all the packages and items you and your organization provided me while deployed to Afghanistan.  What I was unable to use or had enough of, I was able to pass out to other Soldiers.  Thanks for all that you are doing.  I am current;y redeployed back tp the states.SFC Stephen Eldred
March 18, 2010******************Major Soots, Tina  USAFSirs and Ma'ams,On behalf of the Men and Women in our Armed Forces serving at Joing Base Balad Iraq, I'd like to express our heartfelt appreciation for your continued support.  The We Care packages were received and distributed at Troy's Place.I've attached a picture of our Hero's Highway outside the Emergency Department at our hospital. Thankfully business has slowed for us at the Med Group since the start of the War.Thanks again, 
Tina Soots, Maj. USAP
Troy's Place Vice President
2/15/10
*Note photo will be posted in photo gallery
CPT Jason ReimanLynelle,I have been receiving packages pretty regularly from FSO over the last 4-5 months, and I wanted to quickly say thank you for all your support, and that my unit is now re-deploying back home here this week.  Thank you to you and all the FSO volunteers and anyone that contributes to your organization.  It was always a good feeling receiving some well needed items and the warmth from home in this very far off place.Thank you,CPT Jason Reiman
WI Army National GuardJanuary 9, 2010******************SGT Thompson, Shawn A.
Ms. Zelnar,
I just wanted to drop you an email from all of us on the P3CAT (Patkya Provincial Police Combined Action Team, formerly PMT) on FOB Gardez Afghanistan. Thank you so much for the "We Care" packages we appreciate all the love and support so much especially during this time of year.God Bless you, your families, and your volunteers.
Warmest wishes,
SGT Shawn A. Thompson
Police Mentor Team Paktya
12/22/09******************Lieutenant Commander Willsey, Jim
Lynelle & Volunteers,
I greatly appreciate the wonderful care package. It's always nice to get a package, especially during the holiday season. I appreciate everything from every volunteer. We need support from home to be successful here. Again, thank you for the care package.Sincerely,
Jim
Lieutenant Commander Jim Willsey
Force Flow Deputy
12/22/09******************SFC Duncan, Ronald H.
Lynelle & FSO Volunteers,
Just letting you know that your package made it to Mosul, Iraq safe and sound. Thank you so very much for sending it, and thanks to everyone who helped with it, especially the nice cards.  your organization is a tremendous morale booster for us. We appreciate all of you!I hope all of you have a joyous and Merry Christmas and Happy New Year. 
Take care, God bless!
SFC Ronald H. Duncan
Mosul, Iraq
P.S. I LOVE the Starbucks coffee!!
12/15/09
SMSGT Harshman, Lyn  USAF
Hello there,
Just a quick note to say thank you for the care packages. They really do make a difference and brighten the day when we receive them. I've attached our group photo, so you can see who you are supporting.Thank you again,
SMSgt Harshman
Manas, Kyrgyz Republic
12/6/09******************SSG Pineiro, AugustoDEAR LYNELLE,I wanted to thank you for the care package i received here in afganstan, thank you so much i just got it almost two months later yet it's because i was wounded by an ied and wasn't able to get anything (letters,packages etc) my adder has changed as wellI WANTED TO THANK YOU FOR THE PACKAGE IT LIFTED UP MY SOUL KNOWING OTHERS CARE ABOUT US THANK YO UFOR ALL YOU DO AND GOD SPEED,Augusto
10/25/09******************Lt Col WeissbergerGreetings from Camp Leatherneck AfghanistanI believe the Great American Team of Dave and Kathy Buchanan had signed me up for your program.I received your package and displayed the cards that came along with it.  Traditionally when we receive a package like yours, we will pass it around the ops center and allow everyone to pull one thing from it and then place the remaining contents next to the coffee maker.  This allows anyone entering the spaces the ability to enjoy as well.  It's truly great to know that there are still folks as yourself willing to support the troops, can't tell you how up lifting this can be.Semper Fi
Eric
10/25/09******************SPC R. MartinezThank you so much for all you've sent me, my packages really meant alot, it meant I wasnt forgotten and that I was respected and my service was apprecieated. I am now stationed stateside/  Once again I really appreciate everything that the Forgotten Soldier Outreach has done. The cards and letters from all the kids really touched me and I enjoyed your snacks and was able to share the goodies with my battle buddies. I will let you know when I deploy again…Have an outstanding daySPC R. Martinez
9/4/09******************CPT ReimanLynelle,We just received a new shipment of boxes from your organization. Thank you from all of us here. I cannot tell you how cool it is to open those boxes and read the letters. I love the letters from the kids. I wish some of them had addresses on them so I could write them back. But I understand it is probably for their protection. Anyway, I got some pictures of some of us opening a box or two, and I will try to get those uploaded as soon as possible and send them to you. Again, thank you so much.CPT Reiman
Baghdad, Iraq
7/24/09CPT Reiman————————————Dear Lynelle,I am a Wisconsin Army National Guardsman stationed in Baghdad Iraq.I am writing you because I found your newsletter and some notes/letters from Brownie Friends Troop 744 in one of our barracks on camp here. Often, when a soldier receives a package, they take what they need, and then we have different locations in our barracks, admin buildings, and command posts where we place the remainder of the package so that other service members can utilize anything else that may be left.Like I stated earlier, I found your newsletter and some other letters in one of these boxes. I know often times soldiers don't have much time with the hours we work and various missions we perform to reply to every package, letter, or show of support that is receive from home, and I just wanted to let you know that your package was received and is greatly appreciated. I do not know much about your program, but I would love to hear more about it, and I would also love to help show our appreciation to your efforts if needed. If there are any organizations or groups that could use a letter from a troop in the war zone, I would be happy to let them know what we do, what we are up to, and how much we value their support. Again, thank you to you and your organization for the continued show of support and patriotism during these hard times.God bless you and Thank You."Scouts Out"CPT REIMAN, JASON M.6/21/09—————————————-1LT GoodlettMs. Lynelle Zelnar,
Thank you so much for your support and everyone involed; I was deployed to Mosul, Iraq from Jan 2008 through Jan 2009. The boxes that you sent lifted up many spirits and touch the hearts of the soldiers in the unit I was assigned to while deployed. We would use those boxes for soldiers who had not recieved mail that week. It was a great morale boost for the soldiers that recieved boxes. I want to tell you thank you and I loved everything you have done for my soldiers and all the soldiers out serving there country and endangering themselves for the American people.Love you and thank you John.John D. Goodlett
1LT, QM, USAR6/6/09—————————————————————-Amy, Wife of a soldier recipientDear Forgotten Soldiers Organization, 
Thank you so much for sending my husband care packages during his 15 month deployment.  He shared all of the packages with many, many other soldiers.  One guy carried around a book of crossword puzzles EVERYWHERE that had come in one of the packages.  The thought and care that went into the packages has been amazing.  Thank you to all the volunteers that donated money, goods, and time to make sure our soldiers had bright spots in their days.  I think this outreach may have meant even more to me, a wife, than the soldiers.  It's just so wonderful to know that other people think about our guys rather than just the family members. My soldier is now home!!!  Please redirect packages to other soldiers still over there.
Blessings,
Amy
***additional message from Amy***
Thought you'd like some more information on just how far one box goes.  My husband was the only soldier in his unit to receive these care packages.  He shared every care package with the others in his unit.  He is a Blackhawk pilot and would drop anything left over from the helicopter to the Iraqi children as they flew over!  He also gave stuff to ground soldiers on patrol in Mosul who would keep it for their personal use or pass it out to kids in the city.  So, your volunteers may think they are sending one box to one soldier . . . but that one box may end up going to dozens of soldiers and kids!
Again, thank you to all the people who make this happen.  You are making a difference in way more lives than you could possibly know.
Blessings,
Amy
May 29, 2009
————————————————————————
SSG Fernandez
HELLO TO THE MANY STAFF, VOLUNTEERS, AND EVERYONE SUPPORTING US TROOPS ABROAD.
ME AND MY FAMILY WANT TO THANK YOU ALL FOR THE LETTERS, CARE PACKAGES AND LOVE YOU SHOWED ME WHILE I WAS DEPLOYED TO IRAQ.
THIS WAS MY THIRD DEPLOYMENT AND EVERY TIME IT GETS HARDER AND HARDER AND THE TIME SEEMS TO GO SLOWER. EVERY TIME I RECEIVE A BOX OF LETTERS AND MUCH NEEDED ITEMS FROM CHILDREN AND SUPPORTERS ITS MAKE THE TIME FLY BY, AND SHOWS THAT THE FOLKS BACK HOME REALLY APPRECIATE WHAT WE ARE DOING.
WE THANK YOU , WE THANK YOU, WE THANK YOU FOR YOUR CONTINUED SUPPORT.
SSG FERNANDEZ
May 20, 2009
—————————————————————————–
Spc Jonathan Reid
Hello, I have been receiving your packages for awhile, but now it's time for me to return back to the states. It's been a long and hard year. It's finally over. Thank you for your gifts, your love and support. It is real received.
Jonathan Reid
PS  Good luck and keep it up. The soldiers really love your stuff.
4/27/09
——————————————————————————
Cpl Byrd
Hi Ms. Lynelle and the Forgotten Soldiers Team,
I am Cpg Byrd from the 178th MP Co. stationed in Basrah, Iraq. I pray that all is well with yourself and your family and I really thank you for your support in our quest for freedom.  I thank all of you so much for taking the time out of your time to send care packages, love and prayers.
May the Lord continue to Bless you and your family and organization!  Do have a Blessed Day and continue to keep us in your prayers as we will do the same for you all. Once again, thanks.
Cpl Byrd
April 21, 2009
—————————————————————————–
MSgt Chirino
Hello and good day to you, and those who take time in their busy lives to think about all the service members fighting the war here in Iraq and else ware.
Today a package arrived at my work place from your organization, and I felt compelled to write to you and say Thank You for your Support.  My Job here at Balad AB in Iraq is to maintain the F- 16 Air Craft??"s that provide air cover for the Soldiers and marines that are on the ground and in the street of Iraq. Please pass on to all our gratitude and as you haven??"t forgotten about us, we will not forget you. God bless, and Thanks from all the men and women of the 332 (FUEL) Shop?
MSgt Chirino (Homestead Air Force Base South FL).
April 20, 2009
—————————————————————————-
SSGT Benito Avendano
Dear Team Members of ForgottenSoldiers.ORG,
My name is SSGT Benito Avendano and I'm from Palm Beach Gardens, FL.  I'm here in Iraq serving our country, and I'm a member of the U.S. Air Force Reserves.  I wanted to send you this quick email to thank you for the great package that we received from ForgottenSoldiers.Org.  It means a lot to all of us here that we have your support, and that you have taken the time to prepare packages for servicemen like ourselves.  Your thoughts and prayers are always highly appreciated.
Thank you for the package!  I'm not sure who excatly donated the items, but please relay this information to the rest of your team. And please let them know that we appreciate everything that you guys do for us.  Definitely helped put a smile on our faces, and definitely helps us get through another day which we are away from our families.
Once again THANK YOU From all of us at the 332 EMXS Fuel Sysmtems Maintenance Shop in Balad, Iraq.
Best Regards,
SSGT Benito Avendano.
February 19, 2009
—————————————————————————–
Stefano, Ciro C MAJ MIL USA FORSCOM
Hello Lynelle,
Though we've never met, you and your wonderful organization took time, effort and expense to send me a care package and I thank you all for thinking of me!
Please let your gracious sponsors know that every package we get here is like Christmas for us!
The anticipation of seeing what's inside as well as simply receiving mail are both some of the biggest highlights of a Soldiers day!
Your words of encouragment, and the items in our boxes are a Godsend!
Thanks for all of the hard work that goes into planning your events and for the pain-staking efforts you take to ensure that NO Soldiers are forgotten!
Thanks sooo much for all you do for each and every service member out there.
God bless you, keep you safe and know that you are making a difference in the lives of those you serve as we serve you back home!
Sincerely and thankfully yours,
Ciro
November 26, 2008
——————————————————————–
JON BURROW, ENS, LDO, USNR
Hello,
I received a WE CARE package from your group and wanted to say THANK YOU very much for your support! The items were put to good use by me and my team members. I have 80 days left on my 12 month deployment in Baghdad; I am looking forward to getting back home to Chicago.
I am part of the Navy Reserve Force, serving here as a Force Protection Officer (Military Police) supporting the training of Iraq's Police forces.
My package was sign by 'Ann Heller'
Is there any way to find out who signed me up for your program?
THANKS AGAIN and enjoy the slideshow!
Jon Burrow, ENS, LDO 6495, USNR
September 25, 2008
—————————————————————-
CHAPLAIN SHANNON K. PHILIO
Thank you Lynelle and Forgotten Soldiers??" Team for the care package sent to FOB Kalsu, Iraq for Donna Pratt and our Soldiers here.  Donna redeployed back to the United States.  I am her chaplain.  I have a Chaplain Store filled with snacks, hygiene items, phone cards, batteries, greeting cards, socks, coffee, plus more.  Donna was always in here helping me with it.  Of course everything is free.  Soldiers are in every day looking for just that right item for them.  We appreciate all you and your team do to support our troops.  We deployed last Nov 07 and redeploy Jan 09.  Two missed Thanksgivings and Christmases.  Such care packages as you have sent boost morale and spirits and help us one more lap around a 15-month track.  Thank you!
Chaplain Philio
CH (CPT) Shannon K. Philio, USA
HHC Company, 703d BSB
MessAge received Spetember 2, 2008
MAJ KEITH SUDDERLynelle,My name is Major Keith Sudder (United States Air Force).  I want to thank your organization for the outstanding support you give the soldiers, sailors, airman and marines overseas fighting the War on Terrorism.  I was stationed at Balad Air Base, Iraq (now known as Joint Base Balad) from April 2008 to July 2008 working at the communications squadron for the 332nd Expeditionary Air Wing (known as the Red Tails — based off the 332nd Tuskegee Airman, the first all black aviator unit in the Army Air Corps during World War II).  The 332nd was reinstated during Operation Iraqi Freedom (circa 2003) and now takes on the heritage of the red tails in todays fully integrated Air Force.Your organization sent me a package full of great stuff and I want to give you and your volunteers a BIG congrats on the wonderful things you do for our deployed military members.  Though being away from home and missing the 'world' left behind, any appreciative efforts from organizations like Forgotten Soldiers is a tremendous morale boster.  Without your organization, many military members would feel that burden of being away from home without the 'home town' touch you provide by sending supplies and goodies to us.  This was my second tour for Operation Iraqi Freedom and I have seen the support for our troops increase since my first tour — please keep up the great work and have the knowledge that the actions you take are greatly appreciated.It is with my greatest thanks to Forgotten Soldiers for the items you sent and if you would like any kind of feedback on items needed by our military members on the line, please contact me any time.Deepest Respects,Maj Keith SudderP.S.  Please give your volunteers a special thank you from the 332nd Expeditionary Communications Squadron and all of the members of the US Military.  Also, my mother has been volunteering with Forgotten Soldiers (Mrs. Sherry Sudder) and has tremendous support of the military, both as a spouse of a veteran (deceased)  and two sons that are also veterans of the Global War on Terrorism ( 2 tours Iraqi Campaign Medal and Afghanistan Campaign).Message received July 21, 2008—————————————————————–MSG JULIO ALVAREZ, IraqMrs Zelner and everyone at Forgotten Soldiers Outreach,I wanted to express my thanks and that of my unit, the 418th MP CLD. I have received several packages from your organization and they were all enjoyed and shared with the other soldiers in my Area of Operations. From the Girl Scout Cookies to the letters from Elementary Students, it was all heartwearming to receive!I am fortunate, as I am close to returning home to my family and loved ones. It has been a long tour but a productive one as many good things are continually happening here. I wanted to also express MY PERSONAL THANKS to the Veterans associated with your organization, regardless of their capacity. It is because of their previous service that has allowed me and my family to have the opportunities we have and the FREEDOM to make the most of them! They are Heroes! So to them I say THANK YOU! AND for those in your organization that had never served, consider this… you are serving us Soldiers in a very improtant Supporting role. All the positive thoughts and prayers that come from "HOME" helps us Soldiers do our job and encourage us, so THANK YOU ALL!!!As much as I have enjoyed and appreciated your Care Packages, you can take me off the list. I will be home soon and the "goodies" can be sent to another Soldier, who may be at the beginning of their tour.Again, THANKS!!!!Have a Great Airborne Day!!!!ALL THE WAY…JULIO ALVAREZ
MSG, USA
418th MP DET, BN S1Message received April 22, 2008—————————————————————SSG Melory, William, undisclosedHello I am SSG William Meloy,Several of my soldiers and I have received packages from your organization and we wanted to thank you. Several of my soldiers and their families are having hard times right now and the
families are not capable of sending the amount of support that they would really like too.Your organization has helped fill that gap and given soldiers who have no support to have something to look forward too. For that I thank You, My job as an NCO is to Lead, Train and
Motivate my soldiers. Training and Leading are the easy part, motivating, especially under some of these conditions can be hard.Thank You for everything that you do. We are with the 535th Military Police
Battalion out of North Carolina. Several of us were cross leveled into
the unit from all across the US.Again Thank you for all of your support.Message received 1/7/07—————————————————————————————–SSGT KAHL, BARRETT, located in Rawah, IraqCOP RAWAH, IRAQHello Ma'am I want to thank you for the package you sent with all the goodies. It is always pleasant to receive a package from someone we do not know showing their support for our efforts over here. I am a U.S. Marine over here for the 2nd time, I have been here for 10 months and have around 3 more to go. Then it is back home to my family in North Carolina. There was also a letter in here from a young 10 year old named Niyati Upadhyay. Thank you all for thinking of us, and taking time to send us the treats. God BlessSSGT KAHL, BARRETTCOP RAWAH, IRAQFOOD SERVICE SNCOICMessage received 12/15/07—————————————————————————————–SSG Ryan S. Kenner, located at the U.S. Embassy in Baghdad, IraqI would like to thank you and everyone involved for taking the time to support our military  world wide. As I read through the other messages I can see that your support was not only in Iraq however it is all over. With your support I am constantly reminded of the reason why I joined the military and why I decided to stick with it.Once again thank you and your volunteers for all that you do.RespectfullyRyan.SSG Ryan S. KennerOperations SGT, IMOMessage received 12/10/07———————————————————————————-GSE3 (SW) Brown located in undisclosed area abroadThank you for all of the packages I have received. I have shared some of them with others who did not receive any letters or packages. Your support and generosity is greatly appreciated. Thanks again for everything- it is nice to be appreciated by those we protect. I will no longer need packages sent to me because we will be returning home. Please tell everyone involved with your program that Forgotten Soldiers is making a difference and helps us when we are far from home.Sincerely, 
Jason Brown
GSE3(SW) Brown
USS TAYLOR FFG-50
Message received: August 23, 2007
——————————————————————————–
TSgt Angela Marshall located in undisclosed
Thanks so much for the care package. The whole squadron enjoyed it.
It's nice to know folks back home are thinking of us and praying for us.
God bless you all.
V/R
TSgt Angela Marshall
Log Plans Super
Message received: June 11, 2007
******************
SGT Thomas Childs located in Afghanistan
Lynelle,
My Soldiers and I are always on the move in Afghanistan and we enjoy coming back to see what goodies are waiting for us.
Everything in your care package get used. All the pictures and letter are hung up in our tent. We would really like to thank all the children who write those letters and draw the pictures. They are a moral booster.
Finally, I would like to thank you and your staff. You are doing a great thing by lifting the soldiers moral up.
Thank you,
Sgt. Childs
Message received: 3/4/07
******************
Rob located in undisclosed
Dear Lynelle,
I just want to take the time to say "Thank you for thinking of me". I received an unexpected package today from your organization. In it, were many useful items and some very needed ones. I was totally taken by surprise as I have no idea how you all obtained my name. Nonetheless, I'm not complaining, just surprised. Thank you again for taking so much of your time, effort and resources to do this for us over here.
I can see it is no small task to manage the numbers that you do. Just know you are bringing smiles to many faces you'll most likely never see.
Feel free to post this wherever you see fit. Thank you once more for remembering us and making your own sacrifices. God Bless
Sincerely,
Rob
Message received: 3/21/07
******************
SSG Jeffrey Stevens located in undisclosed
To all the volunteers at your orgnization, Thank you. I received a package from you this week and it was wonderful. I know you have so many people working on helping out the servicemembers here and I want them all to know how appreciated they are. I've received more support and mail from yours and other groups looking out for soldiers than I have from my own family. It's just wonderful how much everyone is doing to show their support for us out here. Thank you all.
Sincerely,
SSG Jeffrey Stevens
Message received: 3/23/07
******************
SGT Bryan Wright and all of the Paratroopers (82ND ABN DIV) located in Afghanistan
Dear FSO,
I just wanted to say thank you so much for all the packages you sent. The coffee is delicious! With the coffeemaker that Mr. and Mrs. Buschmann donated, and all the coffee we received, we are going to be one "energized" bunch! I really appreciate all of the time and care that you put into all of the packages that you sent. I wish you could have been here to see everyone's expressions when the packages arrived. It was priceless! The troopers were so happy to have received all of the goodies and letters of encouragement. You could notice an instant change in everyone's morale. It is really motivating to know that there are people back home that truly love and support us. I'm sorry that I didn't have a chance to write sooner, but as you can probably imagine we stay pretty busy. Our overall goal here is to bring freedom and democracy to the country of Afghanistan. Afghanistan is a country that has been oppressed by the Taliban for many years.
Hopefully, one day, the Afghans will be able to enjoy the same freedoms that we enjoy in the United States. I am glad to be a part of a group that sincerely believes in their mission here, and I am grateful that there are people like you that support us. Thanks again Lynelle, Helen, and all of the other staff members and volunteers, for keeping our spirits up and letting us know how much you care.
Thank you,
From SGT Bryan Wright and all of the Paratroopers, Sailors, Airmen, and Marines of the CJ1, Combined Joint Task Force – 76.
Message received: February 19, 2007 7:35 AM
******************
MSG Wayne T. Pyle located in Bagram, Afghanistan
Thanks so much for your work and thoughtfulness. I and my soldiers, sailors, airmen, and my one marine appreciated the package greatly. I also sent a postcard to the folks at Delray Beach, it was very thoughtful of all of you. We are serving in Afghanistan, have been away from home for over a year now, and are just about ready to rotate out of the country. Part of the experience that I will never forget is the care and consideration that so many people from home showed for us. It made the difficulty of separation from family and friends easier. We've tried to do a good job here, and I feel like we personally made a difference in peoples' lives. It's hard to really explain how that happens, but it is so. I'll be glad to go home, but I'm glad we were here and will certainly always remember the experience.
Thanks again for remembering us,
MSG Wayne T. Pyle
Bagram, Afghanistan
Message received: January 10, 2007
******************
SSGT Salazar (USMC) located in Baghdad, Iraq
Lynelle,
My name is SSgt Salazar; I am the Platoon Sergeant of Marine Security Forces – Baghdad. I have a detachment of Marines. From the Marines of MSF, we would like to send out our appreciation for what you have done and continue to do. We received the care package with the 37 stockings.
I have located a small tree and have set it up in our berthing area. I have taken the stockings and put a name on each of the stockings for the Marines. I have attached a picture of the tree and stockings. Once again, thanks and just know that it is citizens like you and your organization that brings smiles to the troops during the holidays,
thanks. Happy holidays
SSGT. ALVARO SALAZAR
Message received: 12/3/06
******************
CPT Neil McCracken (USAF) located in Iraq
Lynelle,
I received your package from Forgotten Soldiers Outreach today. Thank you and please pass my thanks to everybody who contributed to the package. I don't know if you have any contact with Victoria from Clewiston Middle School, but if you do, please let her know how appreciative I and all the members of my squadron are for the message she sent. I have posted it in our living quarters for all to enjoy.
Matt (and/or Sarah),
Thank you as well for the kind support of all our troops. It is the thanks of those like you that keep us going and remind us that our time away from families back home does not go unrecognized. Your message has also been posted. So everybody knows who received their contributions and messages, I've provided some pictures of my time in the Middle East (I'm on the far right) and a picture of my family that waits for me at home. I'm serving as a B-1 pilot supporting operations in Operation Enduring Freedom (OEF).
Again, I thank all of you very much for your support.
Your friend,
Neil McCracken, Captain, USAF
Message received: 12/2/06
******************
SPC Bruce Olson (US ARMY) located in Iraq
Good Morning Lynelle,
Or at least it is morning here. 3AM, I work the 11PM to 7AM shift in the motor pool. Before I go any farther, I want to say THANK YOU so much for the wonderful packages. They are greatly appreciated by myself and those who I share the items with. Although the Johnny Carson DVD is mine !!!!! Thanks go out to you and all the volunteers who worked on putting these packages together. Recieving letters, cards and packages from home make being here alot easier. Especially with the holidays just around the corner. Looking forward to being done with this deployment in March so I can come home and be with my family and Friends. Looking forward to coming to Florida and visiting friends in your area. Maybe I will stop in and say hi.
I am enclosing a picture from a humanitarian mission I went on 25th of November to a local village were we handed out items to the people.
Take Care,
Tahnks Again,
Bruce
Message received: 12/2/06
******************
CPT Lance Waldorf located in Bagram, Afghanistan
Dear Lynelle and friends at Forgotten Soldier's Outreach,
Greetings from Afghanistan! Many of us want to take a few minutes to say "thank you" for all the encouraging letters that you all have sent to various soldiers throughout Afghanistan. Many soldiers, in particular younger soldiers, often find themselves deployed without a support network back home. During the holidays, many of these soldiers feel alone. When they receive your cards, it reminds them of how appreciated they are and helps remind them how important their mission is here. My mother has often shared with me of her experiences writing a soldier during the Vietnam war. This was a single soldier who only received mail from my mom. He had no family and in those days did not have access to email or phones like we know. That experience created wonderful lasting memories for my mother and that young man. Although I have never had the chance to meet that soldier, my mother at the age of 66 speaks of that experience often. I too hope that your efforts will bring you lasting memories of joy.
For those of us more seasoned soldiers with supporters back home, your notes help remind us of our loved ones as well as the privilege of responsibility that we carry as leaders.
Your continued thoughts and prayers help sustain during rough days and sad times. There is truly a war of ??Sgood verses evil? going on here in Afghanistan. Your prayers for protection do make a difference. No matter what the news may say back home, we are doing the right thing here. We all want to come home, but only after the job is done. Otherwise, we would have sacrificed America??"s greatest treasure for nothing.
Wishing you all a very Merry Christmas and blessed New Year!
CPT Lance Waldorf
Bagram, Afghanistan
Message received: December 19th, 2006
******************
Major Michelle Franco-Cohn located in Balad, Iraq
Hi
I am Maj Michelle Franco-Cohn, I am a nurse at the 332 CASF in Iraq.
I wanted to thank you for your package and letters of support. We greatly appreciate being able to give these items to our wounded and ill soldiers and marines and airmen. We hope you enjoyed being able to support us as much as we enjoyed receiving your gifts.
Thank you,
Maj Michelle Franco-Cohn
CASF Donation/Gift Representative
Message received: October 30, 2006
******************
Pfc Robert Arango located in Ar Ramadi, Iraq
"hi its me robert. well the "FSO" means alot to me and to the soldiers i work with that are enrolled in this program. It really shows that there are people out there that care about us and show that what we do is for a good cause. When times get rough and my motivation is low I remember about this program and think to myself that they are people who depend on us and have our backs. Also for soldiers who dont have to much of a family or the family have a low income to send things, they can still recieve things from people that do care. i just want to say thank you and God bless you guys"
pfc arango, robert
Message received: 9/24/06
******************
Ricardito P. Salditos, Capt, USAF located in Kirkuk, Iraq
Thank you so much for your thoughts and prayers and the goodies for our soldiers.
Rest assured that your generosity will be rewarded hundredfold!
You are a part of a mission bringing hope, healing and peace in this part of the world.
Ricardito P. Salditos, Capt, USAF
Catholic Chaplain
God bless!
Message received: 8/29/06
******************
Master Sergeant Sheldon Gray located in Iraq
Lynelle,
A kind boy sent me a letter in one of your packages. Could you please attempt to locate him and forward this email, perhaps in printed form.
Or let me know if I should mail my response to your address. Thank you kindly, MSG
Dear Jake,
I was really pleased to receive your letter in the mail.
I am a 20 year veteran stationed in the green zone or International Zone in Baghdad.
Sometimes the days are extremely long and challenging, but letters such as yours make it possible for me to remember the ??Sgood ???ole days? in the United States of America.
I have 3 children of my own .. Traun (14) , Tre??"vell (13) and Terae (9). Of course they miss me very much, or at least they always tell me so.
Thank you again for wishing me a Happy Memorial Day. We tried to celebrate as best as we could. Unfortunately, we didn??"t have the day off J
Hopefully, the weather in Florida is great. It's averaging 115 degrees Fahrenheit here.
Also wish to inform you that one of my soldiers is from Florida. We often debate which sports team are the best as I am from further north in the Philadelphia vicinity of Pennsylvania.
In response to your other questions:
Yes, I have lost someone at war, Master Sergeant Paul Karpovich, who was a fellow reservist at the time and was only here in Iraq for 27 days prior to being hit by a suicide bomber. Of course, that's probably enough detail and I appreciate knowing that you are taking an interest in my personal well being. I miss him, but I am here to honor him and protect fine Americans such as yourself.
Secondly, when someone is attacking the USA, I first attempt to resolve the conflict through debate and communication, but when all else has failed, I am FIRST to sacrifice myself and my team in an attempt to bring order. NOONE in the USA should live in fear of another person, place or thing. Only have anxiety about the unknown, which we all will experience once our life on Earth has been fulfilled.
You have asked some very good questions, which shows you are thinking with your mind and your heart.
Best of luck in all that you wish to accomplish and tell all the 4th Graders at your school that you have a friend in Iraq!!
Bless you!
Master Sergeant Sheldon Gray; Elkins Park, Pennsylvania
3Teez
Message received: 6/18/06
******************
Spc.Geoffrey L Jenkins located in Iraq
good afternoon,
I like to give my sincere thank you for all the work,you and the sponsors of the great state of Florida has given me and my fellow soldiers!
My name is:Spc.Geoffrey L Jenkins.
I'm with the Massachusetts National Guard currently serving in Iraq.My (MOS) is 11Charlie,Mortars
My AKO Address is:[email protected]
I'll respond to all who writes,
thank you again,geoff
Message received: January 9, 2006
******************
TSgt Cromer located in
Dear Lynelle,
Just a quick note to say hello and thank you for the packages.
I don't know if SMSgt Crane had notified you that he is no longer deployed. He departed here around the middle of Sept 05. I will also be redeploying this month back to the states.
I've had a few of the letters that I??"ve been meaning to answer. I'm not to big on a lot of words but the main thing I'd like to say to everyone is THANK YOU for the time, $, and effort all of you have put into giving from the heart to people you don't know.
Thank you.
TSgt Cromer
Message received: January 23, 2006
******************
SSGJamison located in Iraq
I wanted to pass on my deepest thanks for all the support you have given me during my tour in Iraq. The packages you sent were always greatly appreciated! I am happy to say that I will no longer be needing them though. I will be heading back home next month and soon be teaching again! I can't wait:) I will forever be grateful for people like you and know that all the other soldiers you take care of feel the same way.
Take care and God Bless!
SSG Jamison
Message received: January 26, 2006
******************
Captain Sean Michael Flynn located in Iraq
Dear Mr and Mrs Baggett and volunteers,
Thank you so much for your support over the long months of service in Iraq. I first received a package from you in January and they have been coming without pause since then, culminating in a grand box of cards and Famous Amos cookies that I would have kept for myself if there weren't other people in the room when the box came in.
Anyway … our sojourn here in Iraq is coming to a close. My unit is scheduled to ship out soon. I hope to be able to forward the name of the company commander who is relieving me here. But until then, I ask that you suspend delivery.
What has made recieving your packages especially nice is knowing that it comes from just around the corner from my Florida home in Delray Beach. What could be better.
Please keep up your great work. Take it from a rifle company commander; your service is critical to our success here.
Best Regards,
Captain Sean Michael Flynn
Co B, 1st Battalion, 69th Infantry Regiment
"The Fighting 69th"
New York Army National Guard
(Delray Beach, Florida)
Message received: July 28, 2005
******************
1SG Christiana, Russ located in Salerno, Afghanistan
Hi Lynelle & Bill, I received your package the other day from your organization. I wanted to thank you for myself and my soldiers for all the support and prayers and care packages we receive.The soldiers enjoyed the items. I am the 1SG in charge of about 20 young soldiers, both male and female. We run the Post Office and the Personnel office here at Salerno. This is a small camp near the Pakistan border in Afghanistan. We have a dirt runway so we are subject to the weather and that unfortunately affects the mail. But the troops work long hard hours to get the mail to the people here at Salerno. Mail has always been a motivator, you watch the troops faces light up if their name is called during mail call. Again I would also like to thank the the other special people that put cards or letters or pictures in the package. I will try and write them personally,they left no e-mail but I will write them back, snail mail. Again thanks to all of you,you are doing a fine job and we appreciate your efforts.
Take care
Russ (1SG Christiana)
Message received: July 26, 2005
******************
Sgt. Ann Jamison located in Iraq
Dear Lynelle,
Thank you so much for the terrific packages that you have sent. I was shocked by how fast you responded to my request for items for the children over here. I am thrilled to have so many super cute stuffed animals to hand out. I know the kids here will love them. Being that I'm an electrician over here with an Engineer Company, I don't get to spend as much time here with the children as I would like to. In my civilian world I am a 5th school teacher so any "kid time" I can get always makes my day. I also can't thank you enough for the great items you have sent me.
I have shared a lot of stuff with my squad too. The white Oreos with chocolate fillings were DELICIOUS! Everything was great! This truly is a terrific program. I enjoyed all the letters I received too. One of the children sent a super cute puzzle in a card that I have been anxiously trying to put together so that I can read the message on the back! God bless you for not forgetting all the people that are away from home. Caring, thoughtful people like you are what makes it that much easier being here.
Thanks for caring,
Sgt. Jamison
Message received: June 26, 2005
******************
Lisa Estevez wife of EO2 Gilberto Estevez located in Iraq
I would like to thank you for the lovely packages that you have sent to my husband and the other members of NMCB 14. They were stationed in several locations around Iraq. They were wonderful and the Seabees truly enjoyed receiving them. It is fabulous to know that others care about our service men & women as much as their families do. The heartfelt messages really let them know that they truly cared about. I am happy to report that NMCB14 has returned home. Please, it is not neccessary to send them any more packages.
Thank you again for your thoughtfulness.
Message received: June 15, 2005
******************
CW2 George W. Simmons located in Camp Eggers, Afghanistan
Once again, your organization has made the day. Today I received my second box of goodies from you guys and I am so thankful. Please continue to support the troops as I know you will. Although, all of them may not respond, please know that they are as thankful as I. May God continue to bless each and every one of you.
P.S. I have attached a picture of me. We often visit the local orphanages to spread the sunshine that you give to us.
Respectfully,
George
Message received: June 23, 2005
******************
Sgt. Russell Bower located in KALSU, IRAQ
i have recieved numerous boxes from you and would like to take the time to thank you. all the odds and ends help more than just me for i put what i don't use out on the table for others so more than i benefit from your help. i myself especially like the beanie babies.i have kept everyone u have sent. i than you once again. unfortunately it is hard to send pictures through the internet but if i can i will. i am a apache helicopter mechanic. if you see any army apache helicopters that r gray. they belong to us. we are from south carolina. ocne again thanks for all your support.
may God bless those who help us,
Sgt. Russell Bower A company 1/151st aviation batalion
Message received: May 31, 2005
******************
Sgt, Russell Bower located in Kalsu, Iraq
"Once again thank you for all your support.it is people like you and your organization that make us, soldiers feel like we are fighting for the right cause, which is freedom for all.
thank you,
SGT. RUSSELL BOWER A COMPANY 1/151 AVIATION BATALION
Message received: June 2, 2005
******************
SGT Luz E. Petrone located in not disclosed
I want to thank you for the great items that I have received. I really enjoyed the notes and pictures from the children, as they made me smile. The personal care items were really well needed. The snacks were in abundance, and I had plenty to share with my battle-buddy. Please let all your folks know that I am truly appreciative of their thoughts, prayers, and fine gifts. By the way, I too am a Floridian. I am from the Daytona Beach area, assigned to the Daytona Beach Army Reserve Unit that deployed two weeks prior to Christmas.
Yours respectfully,
SGT Luz E. Petrone
Message received: April 26, 2005
******************
1LT Shawnna M. Lynch located in Iraq
Dear Forgotton Soldiers Outreach,
Thanks so much for the care package that was sent to me here in Iraq! I especially liked that it appeared to be made for a female soldier; containing several feminine hygiene products. Fortunately, I am not really a "forgotten" soldier as I have great family support and happen to live in an area of Iraq where I have ready access to many snacks and hygiene products. So, I hope you are okay that I used most of the items from the care package to give to the Iraqi children and their parents who live in the most desperate of conditions along the routes that we patrol. They are suprisingly grateful for the mundane items that we take for granted each day. Not only did this brighten the day of some very poor families, but it helped improve the rapport that is so easily damaged by any wrong, culturally-inappropriate move we might make. . . anyway, thank you very much. Please feel free to mail more items as you so choose.
Warmly,
1LT Shawnna M. Lynch
Message received: April 15, 2005
******************
AE3(AW) Matthew Charles Michael located in Iraq
Dear Forgotten Solders,
the girl scout cookies where a god send. We busted them open on a no fly day. i had just gotten done installing an actuator into an s-3b viking. i was hungery my hands where cut up and my arms where sore my supervisor walked up to me and handed me a box of those thin mint choclate cookies. wow did that make my day.
thank you all of you
AE3(AW) Matthew Charles Michael USN
Message received: March, 2005
******************
SrA Greg LeClair located in
Dear Forgotten Soldiers Outreach
I want to personally thank you and your organization for the wonderful things you do for us soldiers who are far from home. These packages help people like myself feel like are job does really matter to someone other then our families, friends and local political leaders (who use it to their advantage). Please keep up the good work and thank you once again for the kind package, it helps to know people really do care.
Thanks
SrA Greg LeClair
Message received: Wednesday, February 16, 2005
******************
SFC Guerra, Salomon located in Iraq
On these special days, many of us will not be with our loved ones. Instead we are half way around the world doing our duty. Many people have wondered back home that they do not understand the situation. Why we are here? Were here to work with the Iraqis to provide a safe and secure Iraq. Why is this important? Because the Iraqis need help in protecting themselves from terrorists and criminals, so they can have an opportunity to be free, prosperous, and celebrate their holidays without fear. Also, to ensure that Iraq is not run by terrorist organizations like Al-Qaeda and use it as a base to strike against the US or our allies. This is why we are here to take the fighting to them instead of our homes, towns, or cities. I hope this helps people understand why we sacrifice our most important holidays and family reunions. May you all enjoy these Christmas days and pray for our safe and sound return home. In our hearts we feel the dedication, service and support you all have give n us from children to adults, from individuals to organizations we thank you and wish you a Merry Christmas. When we talk of service and sacrifice, we must never forget the wives, husbands, sons, daughters, mothers, fathers, and other loved ones who stand behind our Soldiers. Lets not forget the local, State and Federal agencies who work so hard as much as the Military by ensuring peace and safety in the United States for that I Thank you may God bless you as it has blessed us.
Message received: 12/23/2004
******************
Spc Sanders located in Iraq
Hello,
I would like to say thank you and your organization for everything that you do for us soldiers that are currently deployed in support operations in Iraq, Afghanistan, and elsewhere. I received a care package today filled with a lot of nice things. The socks, deodorant, and all the little goodies.
Again thank you very much, If you have the email address of Grove Elementary School I would love to write to the students about my experiences here.
Titus Sanders
SPC, US Army
Foreign Claims Examiner
Message received: 10/22/04
******************
Spc. Daniel Karr located in Camp Cook
"First of all I would like to thank you for your support! There's nothing like getting mail when you are away from your family, When you get letters & pictures from kids you can't help but smile.
Once again, thank you for your gifts and prayers. Let Freedom Ring!!!
Infantry Soldier,
Spc. Daniel Karr
Message received: 10/11/04
******************
SSgt David Woods , Small Computer NCO located in Al Dhafra, UAE
This is to James who is 11 years old at Winston Park Elementary:
Dear James,
I wanted to thank you so much for taking the time to write to us over here. My fellow soldiers and I have been encouraged by your letter. My favorite color is blue as well. I have four sons back home in California. Nick, Jake , Luke and Joe are their names. Luke is 11 years old too. He loves basketball and football. We have a basketball court in our backyard. I know what you mean about cats, they are sneaky, dogs are much better. We have three dogs and a bird.
I pray you and your family will always be in God's Hand. Take care of your brother Tyrell.
Sincerely,
SSgt David Woods
Small Computer NCO
Message received: September 1, 2004
******************
CPT. JEFFREY GREENLINGER located in MEDICAL BRIGADE, BAGHDAD, IRAQ
To Whom It May Concern,
I want to thank you from the bottom of my heart for the great work you are doing for the soldiers.
I was completing a mission earlier today when I heard that the mail truck arrived and I had a package. I was happily surprised to receive your package and shared some of its contents with my buddies. You did a great job at picking out things that we miss such as candy, magazines, and music Cds. Its funny how we take the little things in life for granted. The letters from Susan and Andrew LaRocca, and Lisa Pigliavento were inspiring and uplifting too. I hung up both letters on my wall to read whenever I need some inspiration.
I am originally from New York City and joined the 2nd Medical Brigade in its mission to oversee all medical assets in Iraq. We have been here for five months and hope to be home with our families in another seven months. It is difficult being away from home for such a long period of time and getting homesick happens at times. It makes it easier when we receive some support from home.
Thank you for caring and for letting us know that we are supported back home. It helps give us the motivation to continue on until our mission is done. Some of the units that are under our command include all the combat support hospitals. I would be more than happy to bring over some boxes to the wounded soldiers at the hospital if you wish to send additional packages. Unfortunately, we have wounded soldiers being brought in on a daily basis and we are always looking for ways to brighten their day as well.
God bless you for your thoughtfulness.
CPT. JEFFREY GREENLINGER
Message received: June 12, 2004
******************
Dennis Beath located in undisclosed location in Iraq
to whom it may concern,
my name is dennis beath. i need to thank you so much for the package you sent me. i needed soo much of that stuff. it all went to good use. you are so kind to do the things you do. we all appreciate the thoughts and prayers from everyone. please know and understand that alot of soldiers do not have the time or the resource to reply to your carring thoughts. i am a fortunate person that does have access to a computer and a phone. thanks again and thanks for the moral boost.
with all of my thoughts, dennis beath
Message received: July 2, 2004
******************
PFC Richard Soricelli located in Camp Bucca, Iraq
Hi,
My name is PFC Richard Soricelli. I just wanted to say thank you for the wonderful things you are doing. I recieved a package today filled with all kinds of goodies, and letters from different people. It really helps, when times get rough, to know that there is a country full of people, like you, that stand behind us and support us while we're over here.
Thank You,
PFC Soricelli
Message received: July 6, 2004
******************
M.Rucker located in Iraq
Lynelle, thank you for the care package I was surprised to have received it. That was very kind of you, tell everyone that put saomething in it that I said thank you. Can you please tell Isabella from Loxahatchee Florida that I like her picture that she sent. I will be returning home to the states jan 05 i like to eat out watch movies and shop I am single and I have a daughter in college Thank you for the encouragement and the suppport please email if you like. Also, please tell Bob and Virginia from Texas that I said thank you for their letter it mean alot to me that there are people out there that care and appreciate what we are trying to do. Thanks again
m.rucker
Message received: June 4, 2004
******************
Brent Palmer located in
Thank you very much for the package you sent me, it was very nice and helpful. Sorry it took so long to reply but I have has been very busy. All the snacks and supplies were great. I live in a
tent with seven other guys, and I shared a lot of it with them. They all say thank you too. Most of the soldiers I know are getting enough mail, but I will hold on to your address and let you know if I come across someone who might be in need of some happiness.
Maybe you can help him out.
Thanks again,
Brent Palmer
Message received: April 23, 2004
******************
Cpt. Dan Kuecker located in Iraq
Special Postcard Received from Cpt. Dan Kuecker, Iraq:
Thank you so very much for your support. Please continue to spread the good word with regards to the excellent work done by America's Soldiers. We Need our country behind us. We appreciate You! With much respect, CPT. Dan Kuecker
Message received: April 21st, 2004
******************
SPC. James J. Truitt located in Camp Anaconda, Iraq
As a solder currently deployed to Iraq right now, I want to thank each and every one of you for your time and prayers. It brings me joy to know that there are still those who support me and my uniformed brothers and sisters. Thank you once again for all of your efforts.
Message received: April 23, 2004
******************
SSG Daniel Brown located in Iraq
I received a package from you and would like to return the favorto this soldier. She is originally from Alabama and has a Foster Mother that very rarely sends her a letter, let alone a package. If you could keep her in your Prayers, I would be grateful. As for me, the package was very well received and the letters brightened my day. I thank you and the people that took the time and money to donate to the soldiers here in Iraq. God Bless.
Message received: May 21, 2004
******************
SSgt Jeremy A. Almazan located in Iraq
Dear Ms. Arruda,
Hello from this side of the world….Thank you very much for your e-mail. I must admit that I am not familiar about the Forgotten Soldiers Outreach, Inc. After reviewing your web-site, there is a lot of good to offer. I am happy that there are people out there who care about us in the military who may not be as fortunate. I really appreciate all that you, and your organization does to support the military….I will be sure to forward the forgotten soilders web-site to those who are replacing my crew and I.
Message received: May 2, 2004
******************
Pvt Shane King located in Bagram, Afghanistan
"I just wanted to thank you for the care package I received from your organization. My name is Private Shane King, and I'm in Bagram, Afghanistan. Care packages are pretty much all we have to look forward to over here and I really appreciate it"
Thank you,
Pvt Shane King
Message received: April 7, 2004
******************
1LT Billy Wright located in Camp Udairi, Kuwait
Lynelle & Bill,
I just wanted to thank you for the care packages that you sent me and my soldiers. I know we all appreciated the time and effort that was taken in putting those packages together. There were many useful things in the packages. Some of my soldiers were very surprised on some of the things they received, such as a disposable camera and some socks. They liked the letters from the kids the most and plan on writing back, as some have already. Again, on behalf of my soldiers, I would like to thank you and your organization for the support you have given us. This is a great way to keep the soldiers' morale high.
Sincerely,
1LT Billy Wright
Message received: March 20, 2004
******************
SSG. John, Kenrich (Ghostsquad) located in Ar Ramadi, Iraq
Well I just wanted to say thank you all for your support, during our deployment here. You constantly reminded all of us soldiers here, that you kept us in your prays and thoughts.We are beginning our journey back home this week and of course, we are very excited. Myself and the guys are looking forward in meeting some of you, when we get back, thanks again and my God be with you always. Take care.
Yours Truly,
SSG. John, K
Ghostsquad
Message received: February 21, 2004
******************
Sgt. John Debevec located in Ar Ramadi, Iraq
(continued from previous…)
I am 23 and I live in Pompano. My parents live in the Keys. I have 2 brothers and a sister that live in West Palm Beach. We miss each other a lot. I get home sick when I am not busy. I try to keep real busy. That way I don't think about home too much. I don't have a girlfriend or kids, so it is alittle easier for me than some of the other guys. I still miss home just as much as they do. I have a digital camera that I carry with me. I can send the pictures home real easy so my parents know that I am ok. We should be coming home soon. We should be home sometime in March. That is if things go as planned right now. I would love to come visit your class when I get back.
I hope I answered all you questions. You kept me busy for a long time. That was great. I hope you all are doing well in school. Thank you for thinking of me. It really means a lot to me.
Sincerely,
Sgt. John Debevec
Here is a joke: Why does a cow wear a bell?
Because its horn doen't work.
Message received: February 10th, 2004
******************
Sgt. John Debevec located in Ar Ramadi, Iraq
(continued from previous)…
On our patrols through Ar Ramadi, Iraq, I carry a M16. We do have machine guns. I don't get to use them very oftem because I have to lead my team. I have to tell the guy with the machine gun where to go and what to shoot at and when to shoot. I like what I do as a Sergent and I am good at it. That is what some people have told me. I try to be good at it. We don't carry bazookas anymore. We carry AT-4's. It stands for anti-tank 4. Because it is the 4th type made. During our patrols we look for people doing bad things and then we arrest them. We also guard out compound. So nobody tries to attack us. We go into the city, in special places to look out. Then we report by radio if they see anything suspicious. I painted my face green because I was going into some trees to go into one of those look out spots and I didn't want to be seen. When I am painted like that, in the trees, I can't be see very well.
When we aren't out doing all that stuff, we are usually sleeping, or watching movies. Sometimes that gets boring so then we work out with some of the weights we bought from some of the locals. We write a lot of letters, and listen to music. During the summer, when it was really hot, we swam in the river. Then there was an oil spill, so we couldn't swim in it anymore. We don't know what caused the spill. We just know that we couldn't swim anymore. The water was really cold. We also eat a lot. We usually eat what ever ther army gives us. We do have Meals Ready to Eat (MRE's) they are meals that are already made in bags. They aren't very good, but when you are hungry, they are great. We also can buy some food from the local stores. We try to only buy food that is pre-packaged because their food isn't as clean as ours. (to be continued…)
Message received: February 10th, 2004
******************
Sgt. John Debevec located in Ar Ramadi, Iraq
Dear Miss Arruda's Class,
A lot of different animals live in Iraq. There are a lot of sheep, cows, lots of dogs and cats, and camals. I have only seen one camal though. I've seen a few snakes also. I don't like snakes too much so I kept my distance.
I live in Ar Ramadi, Iraq, right now. At home, I live in Pompano. Here in Ar Ramadi, it is sort of cold. In the summer it was really hot. It was so hot that we used to put soup on the sidewalk to heat up. Now we put water on the sidewalk to get cold. It is really dusty too. Sometimes it is hard to breathe because the dust is so bad, especially when the vehicles are driving through the dirt. Dust gets on everything. We have to clean our weapons everyday so they will be effective (to be continued…)
Sincerely,
Sgt. John Debevec
Message received: February 10th, 2004
******************
Soc Justin Conforti located in Iraq
Sent to Northboro Elementary Montessouri Magnet School: Hi girls!! Nice to meet ya Francesca!! Hope you are doing fine and learning lots in school!! I got your package the other day thanks for the valentines and cookies, those are my favorite girl scout cookies!! I get to have fun most of the time here, we try to have fun most of the time it makes things better here for us, but we have to be serious when we are doing patrols in the city. My best friend is Iraq is John I think you know him too, it's Sargent John Debevec, we have known eachother since middle school and are really good friends. I play rollerhockey either at SkateZone or in my old apartment complex there was a rink there. I love the Everglades, have you ever been there? I went a couple times and got to ride in a Airboat it was so much fun. They told us we are coming home soon we are leaving Iraq in 14 days I can't wait, I miss my friends and family very much. Me and John are planning to go to your school and meet everyone when we get home I really look forward to that we can bring lots of pictures and cool stuff we have. Take care girls and learn lots. Talk to ya soon.
Justin
Message received: February 10th, 2004
******************
Cpl. Michael Jones 4th Anglico US Marines located in Al-kut, Iraq
we wanted to write and thank you for the wonderful care packages you've been sending….the support we've received has been incredible and you definetly help to make our lives easier by your thoughtfulness. thank you very much. we don't know exactly when we'll be getting out of here but it's safe to say that we'll be out of iraq by june. please thank everyone at your organization from all of the marines in al-kut, iraq. cpl michael jones 4th ANGLICO us marines
Message received: February 19th, 2004
******************
SSG Kenrich, John located in Iraq
An email to 1st and 2nd grade class who the Ghostquad adopted:
Hi, Ms. Arruda
How are thing going, tell the student's we said, hi also and hope all of them are well. Well to answer the question why we adopted you as the mini-ghostsquad. By looking at the picture of the class, I could see that you guys are tuff and strong as we are.We have dedicate ourselves into helping the Iraqi people rebuild and to stop those who want to oppress that. In saying that, you guys take some of your time in supporting us here, which helps fuel our motivation, to keep going with the struggle. So we said hey, if you young ladies and gentlemen can have a mission to support us troops back home, then why not adopt you as are mini-ghostsquad, for your hard work and dedication. Can you tell the kids, that also it does get tuff sometimes, but you should never quit, or be afraid to ask for help. That what made us strong, we always supported each other, and became like brothers. Well take care Ms. Arruda's and of course the student's also.Oh one last thing, you can say your part of the army now, we just have to swear you in when I get home(smile). bye for now.
Yours truly,
SSG. John,K
Ghostsquad
Message received: February 2, 2004
******************
Sgt. John Debevec located in Iraq
Lynelle and Bill,
I can't express enough how much all your efforts mean to my fellow soldiers and I. We find it amazing how so many people can come together to
help us feel appreciated. I wish there was a way I could make all of you feel as appreciated as you have made us. Your packages have brightened the
days of so many soldiers in our company alone. I can only imagine how many more soldiers have smiles on their faces because of your selfless service….I can't wait to be able to thank each one of you personally.
THANK YOU SO MUCH,
Sgt. John Debevec
Message received: January 31st, 2004
******************
Spc. Martin Cuellar located in Iraq
I wanted to say thanks once again for all your help your emails are very motivational they help so much well we should be leaving here soon like within the next 2 to 3 weeks to finally go home it seems to good to be true though, but every one here is so grateful for all your help and support you all are the reason our country is worth fighting because of people like your self, most people go on about their life not knowing what really goes on over here but you all go out of your way just to bring a smile to our face you should have seen these guts when they got some letters from some collage girls haha they got all excited alot of then their wives and girlfriends have turned their back on them cause they've been gone for so long and the letters from the little kids usually brings tears to their eyes cause they're letters are just so innosent and when we get letters from people like your self it just feels good to be fighting for such wonderful people who really make our nation wonderful thanks again for all your help hopefully we'll be on our way home in 2 to 3 weeks thanks alot god bless you all
Message received: January 4, 2004
******************
Spc. Martin Cuellar located in Iraq
hi thanks for your email its very motivational and its so cool that so many people care about us and are doing all this to help us well it looks like we might get out of here some day haha before it seemedlike we were never leaving well any how yes we do have a can opener thankyou and i'de like to thank all your sponsors on behalf of Bravo company 1st of the 124th Infantry thank you all so vry much god bless you all
Message received: January 12, 2004
******************
Staff Sgt. John, Kenrich located in Iraq
Dear, Mr. and Mrs. Baggett
I would to thank you again for the care package that your organization sent to us. You and your staff are such awesome people. My soldiers are very appreciative of your kindness, and dedication towards us soldiers over here. May God bless you all for your generosity and patience. Take care.
Yours Truly,
Staff Sergeant John, Kenrich (GHOSTSQUAD)
Message received: January 27, 2004
******************
Sgt. Matthew Newman located in Iraq
…Tell everyone hello for me I can't thank you enough for everything you all are such a blessing. My faith is growing each day because of you all.
Matt, Sgt Spider Newman.
Message received: Saturday, January 17th, 2004
******************
Sgt. Kristopher Knight located in Iraq
I just wanted to tell everyone thank you from me and my fellow soldiers. You have helped alot of people out when they were not feeling up. Also so if you could tell all the kids at the schools thank you as well. We are very busy so its hard to write back to everyone so if you could tell them thanks for me please. Thanks for every thing you all do even though you dont have to
Message received: January 10, 2004
******************
Spc. Martin Cuellar located in Iraq
Thank you for your email yes you can print out my email I wanted to tell you all that we recieved your packages they want me to say thank you since we are all busy most of the time with patrols and other missions we dont hardly ever get to use the internet i wanna take this time to say thank you from spc connfortie, sgt almonte,spc calderon,sgt newman,sgt debevic,spc deshay,spc garcia,and pfc cuellar thank you for all your help it may not seem like much but to us it means the world it feels good to know that people back home still care and know what we go through on a daily basis some times we feel forgotten and like no one really cares they some times ask us in letters why we're still here if the war is over but to us it never will be soldiers are still fighting every day and thanks to you all we can push our selfs harder and actually feel like its making a difference and feel like its all worth it thank you for all you help and god bless you all back home.
Message received: 12/30/03
******************
Staff Sergeant Kenrich John located in Iraq
To whom it may concern:
May name is Staff Sergeant Kenrich John and I am with Bravo Company 1-124th Infantry 1st Platoon 3rd Squad leader (the Ghostsquad) out of West Palm Beach, Florida. I just wanted to thank you and all those who have supported us during our deployment here in Iraq, this holiday season has been a difficult one, because allot of us here for the first time will be missing Christmas and New Year, not being around there families and also those who just started new ones there's too.So in saying that,your organization let's us know we are not truly forgotten and you all have us in your prays this year. Yours Truly, SSG John
Florida National Guard
P.S
Here's a prayer we go by in my squad.
The thought of my pain, my homelessness, is bitter poison. I think of it constantly, and my spirit is depressed. Yet hope returns when I remember this one thing. The Lord's unfailing love and mercy still continue; Fresh as the morning, as sure as the sunrise. The Lord is all I have, and so in him I put my hope. Lamentations 3:19-24
Message received: 12/30/03
******************
Brad located in Iraq
I want to Thank each and everyone of you for the wonderful thought and care package we have received. It arrived last night on Christmas eve. It was very touching and I am grateful that you all support us. We are grateful and appreciate the effort…
I hope that this e-mail lets you know that you are appreciated, I know that there are countless numbers of letters and e-mails from supporters such as you that may not get answered, if I was able to I would respond to each and everyone. But know this, we do read them and are grateful, however, our duty here keeps us busy.
I hope you all have a wonderful Holiday season, may your New Years resolution come true. Just want top leave you with a few of my favorite quotes, they are motivators for being here in Iraq: "People sleep peaceably in their beds at night Only because rough men stand ready to do violence on their behalf."
-George Orwell
"You can get horses ready for battle, But it is the Lord who gives us victory."
Proverb 21:31
God Bless and Thank You =)
Message received: Christmas Day 12/25/03 @ 10:18am
******************
SSG Walter T. Brown located in Iraq
I am a soldier who has benefitted from the generosity, thoughts, and prayers of The Forgotten Soldiers Outreach. I can't express the appreciation I have for all of you. I have been away from my family since January 2, 2003. Godwilling, we will return home sometime in February 2004. Thank you again!
Message received: December 21, 2003
******************
SSG Brown, Walter located in Iraq
A message to the Students at Northboro Elementary School:
Dear Miss Arruda's class,
I would like to say MERRY CHRISTMAS & HAPPY NEW YEAR to you all. I could not get this letter to you before you went on Winter Break because I had to go on a mission at Camp Arifjan, Kuwait.
Thank you for the jokes you gave me. I told them to a couple of friends here. Now, let me answer your questions:
1. Does it snow in Iraq? Yes it does. But not where I am. I am in southern Iraq near a town called Umm Quasar. It gets very very cold here in the Winter. Especially for a person who has been in Florida their entire life. In the summertime it gets extremely hot.
2. Do you carry a weapon? Yes I do. I am a military policeman, so I usually carry a handgun called a 9mm (nine millimeter). I also have an M-16 rifle. Other soldiers carry machine guns, grenades, rocket launchers, and many more weapons. We have to be ready in case someone tries to attack our prison camp.
3. Did you ever catch a bad guy? I have never caught a bad guy myself. Other units capture the bad guys and bring them to us so that we can keep them in our prison. Sometimes, the bad guys try to escape from our prison and we have to re-capture them. But that has never been a big problem here.
4. Are you near a river? If there is, can you go swimming? Yes, there is a body of water nearby. The port allows ships to come in to provide supplies But the water is so dirty that most people won't swim in it. In the summertime, it was so hot that some soldiers did not care about the water being dirty. They jumped in and went swimming anyway.
Thank you all again for writing to me. Enjoy this holiday season with your families. Hopefully, I will be home soon.
Your Soldier,
SSG Brown, Walter
Message received: December 19, 2003 @ 7:19am
******************
SSG Brown, Walter located in Iraq
A message to the Students at Northboro Elementary School:
Dear Miss Arrunda's class,
I'm happy that you were able to write to me. Thank you for caring and supporting me. I have been away from home since January 2, 2003. I miss my family and friends very much. I have two children. My son is three years old and my daughter is five. They said that they miss me too.
I work as an MP (Military Policeman) in the Army. We built a prison camp to hold the bad guys in Iraq. It is not like the jails in the United States. The prisoners live in tents, not a jail cell. And we surround the compound with wire that has sharp razors on them. That keeps the prisoners from trying to escape. When we first arrived in Iraq, we wore our masks all the time. But after we ran Saddam Hussain out of Iraq, we were allowed to put them away. We still have them near by in case of a chemical attack.
My unit is scheduled to be back in the United States around February 8, 2004. I hope that our date isn't pushed back again.
I grew up in Delray Beach. That is not too far from West Palm Beach. You all keep up the excellent work at school. And enjoy the Holiday Season with your family.
Your Soldier,
SSG Brown, Walter
Message received: 12/11/03 6:22am
******************
Matt Newman located in Ar Ramadi, Iraq
A Special Message from Matt to the Students who have been sending letters and care packages to him and the soldiers:
"I wanted to send thanks to all of you working so hard for me and my fellow soldiers. I am in Ar Ramadi, Iraq which is part of the sunni triangle. It has been pretty cold and wet here the past few days. So much for a white Christmas, huh. This will be my second Christmas over seas. I can't wait to come home for good this time. So let me tell you about this place a little. There is the Euphrates river to my north and lots of farm fields around it of course. Some of the people are nice others not so nice. Durring the summer it is very hot and winter is very cold. It is dusty and has a unique smell to the place. Must be all the trash everywhere. Yeah, probably that. People drive almost anthing that moves. It does'nt matter. The strangest is the donkey with cart on the highway. That is just a taste of this place. In the beginning it was like a light show every night with all the gun fire and explosions around. It was pretty cool. Well, I hope all of you keep writing and I will do my best to write back and so will my buds.
Thank you,
Sgt. Matthew J. Newman
BCO 1/124 Infantry
PS. If any of you skateboard I will see you at the parks. "
Message received: December 19th, 2003 @ 2:41AM
******************
Sgt. Matthew Newman located in Ar Ramadi , Iraq
"Wow,
I don't know what to say. I am speachless. You almost got a tear out of my eye but I sucked it back in. I can't let my men see that. What will they think? I got your package yesterday and thank you very much it was grrrrrrrrrreat! Well I gotta go and get something to eat. Tell all of the lil ones I said hello. Your friend, Matt"
Message received: December 5th, 2003
******************